Photo by Gary Poteat
With a chill in the air, the most delightful part of winter in Lake Lure & the Blue Ridge Foothills is Christmas. Being here during the holiday season is like entering a Norman Rockwell Christmas card. Explore not just one, but five quintessential small towns sprinkled with all the trimmings you would expect; festive windows with hand-painted holiday scenes lead you down Main Street as you take in the historic charm of local restaurants and boutiques, kids impatiently wait for a chance to tell Santa exactly what's on their list, and horse-drawn carriages escort you through a canopy of over a million twinkling lights.

The Town of a Million Lights
Forest City's Hometown Holidays is a lighting extravaganza that dates back to the early 1930s. Close your eyes and picture listening to carolers as the smell of gingerbread and hot chocolate fill the air. Residents and visitors gather near the iconic Main Street fountain to capture the perfect holiday picture, while majestic horses lead you on carriage tours through a wonderland of twinkling lights. It's an experience like no other that brings guests back year after year. This year's Hometown Holiday festivities begin December 4th, and continue throughout the month of December including an ice skating rink, Santa's House, horse-drawn carriage rides, and photo ops at the largest lighted ornament in Western North Carolina.

North Carolina's Largest Living Cedar Christmas Tree
For almost 100 years this notable tree has adorned the Rutherfordton Courthouse lawn serving as a shady spot to take a break for adults as well as a natural jungle gym for kids. At Christmas, however, it magically morphs into N.C.'s largest living cedar Christmas tree.
This year's incredibly adorned tree is sure to delight residents and visitors alike. Be sure to stroll along Main Street to take in the picturesque holiday ornaments and cheer and even grab a cup of cocoa at Small Town Coffee Roasters or Main Street Coffee & Ice Cream to really get into the holiday spirit. 
What would Christmas be without sending a letter to Santa? This year, the town of Rutherfordton will host Santa and his elves in COVID-safe fashion with a Drive-Thru Santa & Letter Drop Off on Saturday, December 5th. Follow the route from Court Street, down Main Street to see Santa at the Kidsenses Museum, then safely leave your letters with his trusty elves. You can even create and print a letter for Santa (postage already paid!) directly from the town's website.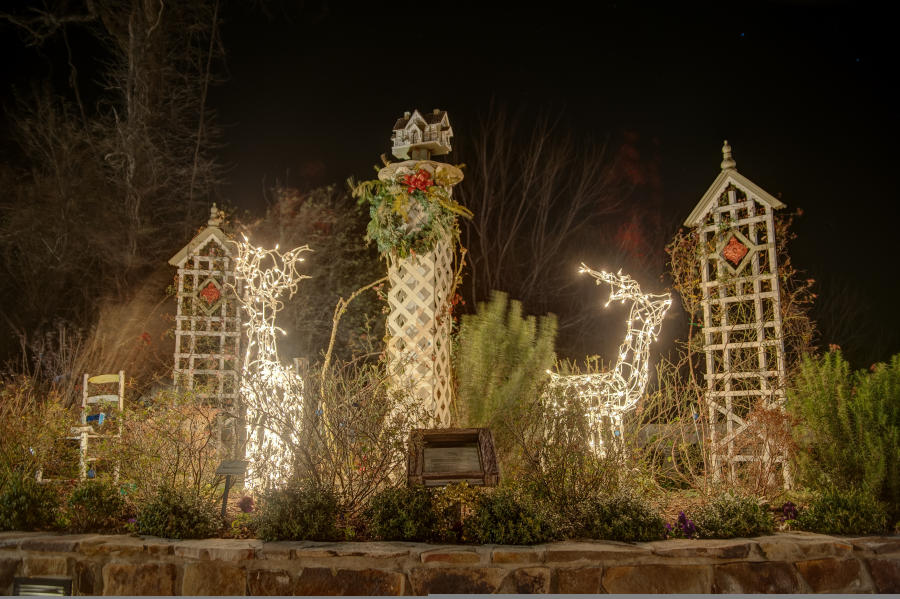 A Whimsical Bridge that Brings to Life the Magic of the Season
You won't find this experience anywhere else east of the Mississippi! Each December the Lake Lure Flowering Bridge turns into a Christmas fairy tale with sparkling white lights, miniature holiday village scenes, and whimsical creations of local artwork, all nestled alongside winter greenery. /p>
This year's decor is sure to bring a smile to every face. Immerse yourself in the holiday theme "From Our Gnome to Yours", as you wander through a holiday wonderland of lights, live greenery, artwork, and (you guessed it!) handmade gnomes of every shape, size, and form.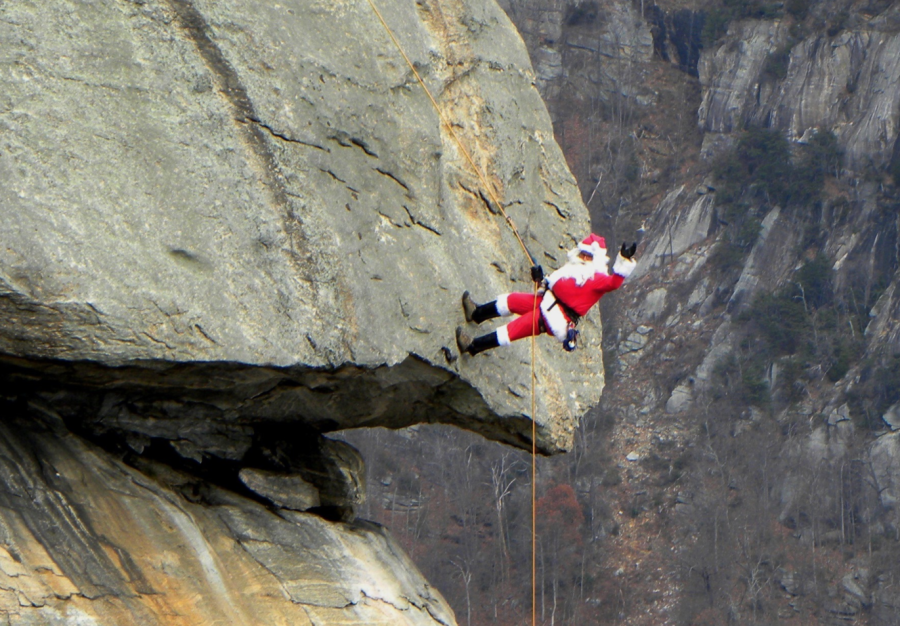 Santa Rappels Down the World's Largest Natural Chimney
Chimney Rock State Park is well-known for its incredible views, hiking, and waterfalls; but did you know it's where Santa goes to practice his Chimney climbing? This year Santa will be practicing his rappelling on Saturday December 5th and 12th from 11am to 2pm on the majestic stone monolith that tops the park. As an extra special treat while he's practicing, visitors can have their photos taken in his sleigh, go on an elf-guided hike, enjoy live dulcimer holiday music while making s'mores by the bonfire, and even have local poet Eddie Cabbage type up their letters and wish lists for Santa on his vintage typewriter. 
If all that joy and cheer leaves you wanting to knock out some of your holiday gift list, a wonderland walk through the ice tunnel transports you to Santa's gift shop complete with a deck to take in some of nature's most spectacular views. But wait! There's more! Nestled in the gorge below is Chimney Rock Village; home to some of the area's best local artisan shopping and dining. It's definitely a holiday experience you'll never forget!
Experience the Magic
Enhance your yuletide season with traditions, sparkling lights, and nippy air in the picturesque small towns of Forest City, Spindale, Rutherfordton, Lake Lure and Chimney Rock. In today's environment of mass-produced sameness, the shops, inns, and cafes of our Western North Carolina small towns represent an extension of local owners who welcome visitors with a genuineness not often found in big cities. Christmas here is oozing in the nostalgia we long for during this time of year. Come and experience a truly magical disconnection from the hustle and bustle of everyday life, and rediscover the joy and enchantment of Christmas time memories that will last forever.