This Holiday Season Shop Local in the Towns of Rutherford County
New York Magazine's Rembert Browne was once quoted as saying about local small business "These are establishments that are often the character of a neighborhood, a community. The relationships created between customers and those that work in independent business frequently go beyond just purchases - it becomes familial." In North Carolina, this sentiment is one that is held dear and rings incredibly true. Nestled serenely in the North Carolina foothills, the towns of Rutherford county may be small as compared to the state's larger cities, but entrepreneurship is a tenet that is bigger than the nearby mountains themselves. From purveyors of quaint baubles and decor to handmade items, homemade goodies, furniture, and original artisan works; you're sure to find the perfect gift for everyone on your list - including yourself!
Rutherfordton
If you love unique boutique shopping that's ensconced in quaint, historic surroundings, you'll adore Rutherfordton's array of downtown shops. One of our favorite spots for unique finds is Rutherfordton's Victorian Lace Antique Mall. With local vendors stocking everything from antique furniture and collectibles, to vintage clothing, art, and jewelry; this wonderful old world location is definitely a must-stop shopping spot on Main Street. 
One of a kind gift-givers need to look no further than The Rutherford County Visual Arts Center. This wonderful gallery and shop features original works by local artists in every medium from photography to pottery and glasswork to jewelry. It truly is the ultimate artistic gift-giving spot to shop at. 
Anyone searching for the perfect frame to enwreathe their holiday memories will love The Gallery. Custom frames and framing options mingled with a variety of local pottery and gifts make this both a charming and useful shop to peruse. To continue filling your cup with small-town holiday cheer, don't forget to stop through Main Street Coffee & Ice Cream or Small Town Coffee Roasters. There's nothing like freshly roasted coffee and sweet treats to keep your shopping energy going!
Forest City
Do shows like Flea Market Flip inspire you? You'll love Flea Town USA in Forest City. With seemingly acres of booths and vendors, there's no way you won't find the perfect gift; or even the perfect 'flip'! If you love finding fantastic home furnishings and decor, then you'll definitely want to stop by Cabin Fever on Main. This locally owned furniture shop is full of exquisite furniture, accessories, and decor for every style and budget. Harrill & Harrill Design Co is another local treasure trove of fantastic finds that's sure to thrill everyone on your holiday gift list.
Complete this year's holiday home transformation with seasonal flora and fauna from Horn's Home and Garden. This warm and friendly, family-owned garden store offers a wide range of seasonal plants and seeds for both indoor and outdoor gardens, as well as home decor, freshly cut Christmas trees, and handmade wreaths and tree toppers. 
Wonderful gifts and homewares can sometimes be found in unexpected places! That's why you should definitely stop through Smith's Drugs of Forest City for a truly classic pharmacy experience. Travel back in time with a burger and soda pop or milkshake at their old-fashioned soda fountain, then browse their wide array of cozy accessories and decor. Don't worry, if temporary time travel makes you woozy, their expert pharmacists can help you feel great again in no time too!
For a truly unique shopping experience, there's nothing quite like the Twisted Pear Taproom & Coffee House. Their array of accessories, decor, and gifts is made even more wonderfully whimsical by their well-stocked variety of wines and local craft brews. Now there's a way to make holiday shopping super fun!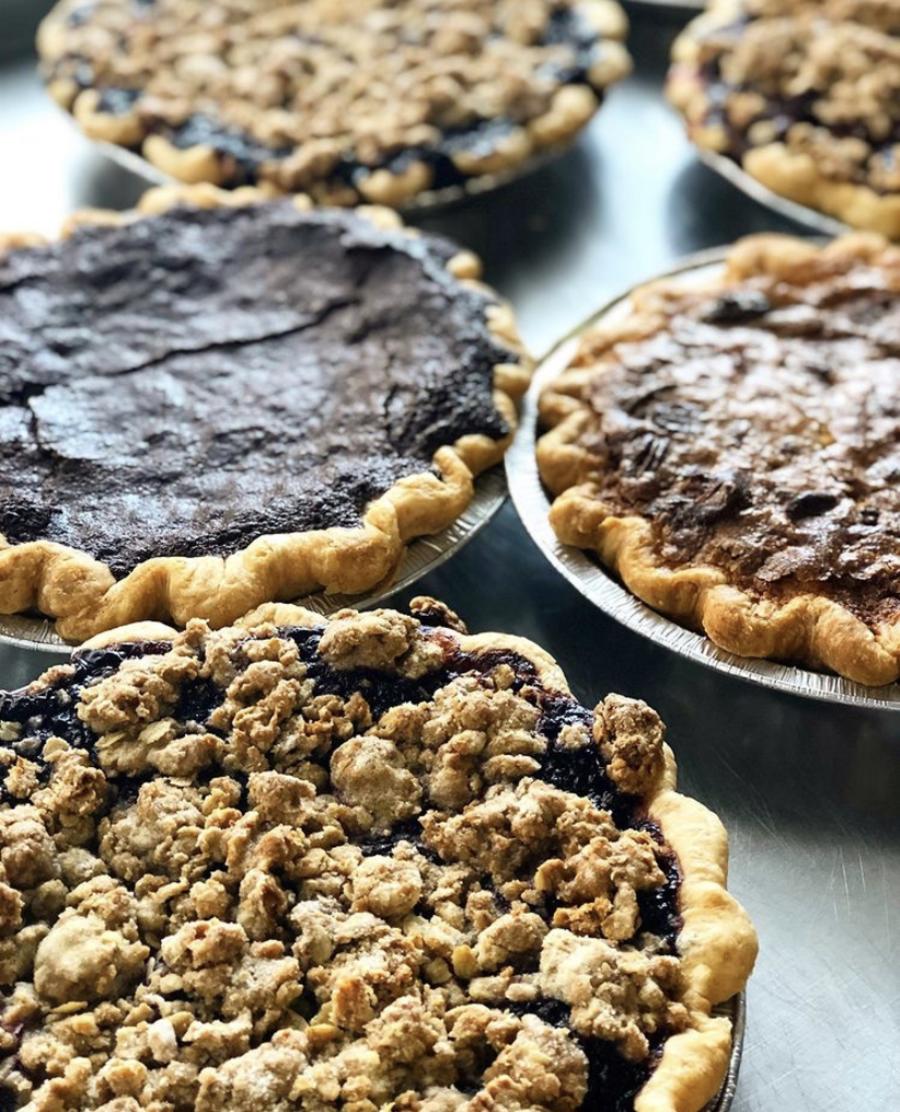 Do thoughts of the holidays give you a sweet tooth? Be sure to stop by The Pie Safe Baking Company. Their selection of homemade pastries, pies, and cookies will be sure to hit your sweet spot. 
Chimney Rock
Chimney Rock Village is far more than just a picturesque location in the shadow of a granite monolith. Their unique shopping finds will wow your senses in more ways than one. Candles are a scent staple of the holidays, and there's no better way to utilize these aromatic memory makers than with environmentally-conscious handmade ones from Native's Rest. Created from all-natural soy and 100% pure essential oils, these candles will definitely create the perfect flame whatever your version of holiday cheer. If you love your 'scentuous' candles with a side of beautiful figurines, Willow Creek is a must stop. Known for their fragrant candles and lovely angel figurines, they also are a great place to find unique holiday and home decor and even have a delectable coffee and sweets shop on site.
If finding the perfect stocking stuffer is your favorite part of holiday shopping, make sure to check out Mountain Traders. Their fun selection of tchotchkes like figurines, wind chimes, Himalayan salt lamps, and handmade moccasins is sure to spark your gifting creativity. For stocking stuffer nirvana Bubba O'Leary's is an absolute must stop. This wonderful old-time general store offers everything from candies and collectibles to souvenirs, preserves, clothing, and household items. It's almost impossible to walk out without finding something for everyone on your list. 
A shopping trip to Chimney Rock would never be complete without a stop at John Bull Trading. From historic and unique gift items to homemade candies and fudge, this great little store is a favorite of visitors and locals alike. Gale's Chimney Rock Shop is yet another area fan favorite. It's full of one of a kind souvenirs and unique gifts that are sure to make the holidays brighter. 
If local and Native American works are at the top of your gift-giving list, Featherheads is an absolute necessity on your shopping stops. Featuring both local and Native American artisan pieces including home decor, art, and jewelry, they also carry books, music, and even raw crystals and stones. This store really is a magical Native American shopping experience full of foothills folklore.
When shop-til-you-drop makes for a serious hunger or thirst, rest your weary tote bags at one of the many local restaurants lining Main Street. If a glass of vino and some nibbles are the perfect assuage, you'll love Burntshirt Vineyards Bistro & Tasting Room. If a proper pint of an excellent craft brew is more your style, you'll appreciate Hickory Nut Gorge Brewery; and anyone just looking for a small sweet snack will find Bayou Billy's or Village Scoop to be the perfect resting spot during a busy shopping day.
Lake Lure
The town of Lake Lure may be best known as a lakeside resort, but its options for unique shopping are beyond compare. Antique lovers will adore Antiques 2Curios. It's a lovely local spot filled with beautiful antiques, home decor, and gifts that are sure to be the hit of the holiday.
If custom furniture is high on your holiday list, there's no better place than Woodworks by Keith Wood. This woodworking artisan uses local North Carolina wood and classic techniques combined with modern methods to create breathtaking furniture and home decor pieces that are sure to be unique family heirlooms for generations to come. 
When golfers are on your gift-giving list, the local pros at Lake Lure's many golf courses will have the perfect find. Check out the pro shops at Bald Mountain Golf Course or Apple Valley Golf Course. Their local experts will have the golfers on your list swinging for joy. 
For some, nothing says "you're wonderful" at the holidays like a truly thoughtful gift card. The Spa at Rumbling Bald Resort or the Irongate Spa at The 1927 Lake Lure Inn offer rejuvenating facial and body treatments, relaxing massage, and hair and nail services; all with one of the most beautiful foothills' views ever imagined. It's the perfect way to indulge the senses of your favorite someone this holiday season.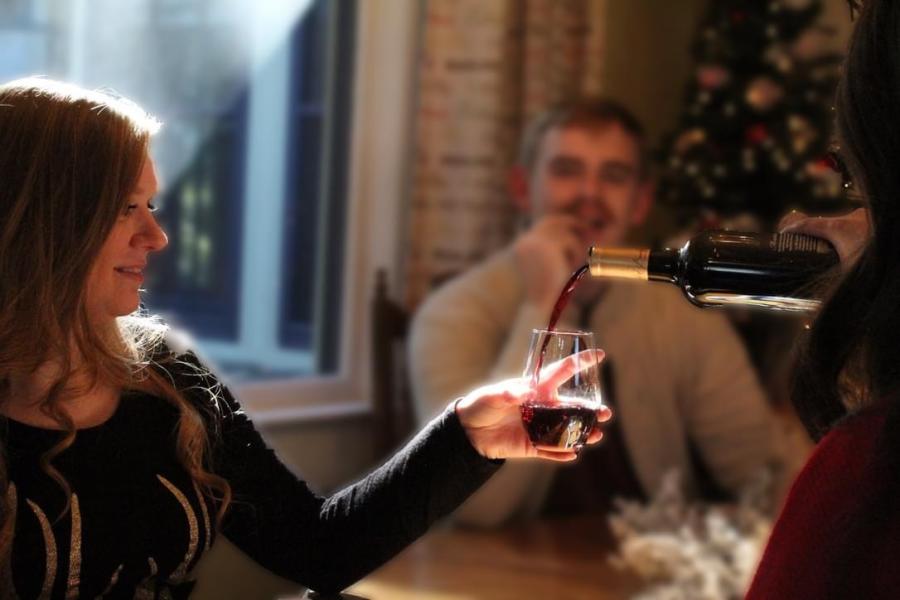 After a long day of successful shopping, kick back and relax by having a meal with a view. Point of View or Lakehouse Restaurant all offer wonderfully varied menus with incredible views of the lake and Hickory Nut Gorge. If you want to kick back while checking up on sports scores, then Legends on the Lake will be a definite must. At the end of the day, if curling up in your room with great food and drink to survey your shopping finds sounds like heaven on earth, then the Lured Market and Grill will have you covered with local foods and produce, craft beer and wine, and even gourmet grab and go. 
Spindale
Nestled serenely at the edge of the Thermal Belt Rail Trail, Spindale was first established in 1923 as a textile community and the fabric of its small-town charm still holds fast today. For a one-of-a-kind gift-giving experience of the music variety, you'll adore B Sharp Music. This wonderful local shop offers a wide selection of new and pre-owned musical instruments and accessories and even has on-site instrument repair services. Their knowledgeable staff are experts in all aspects of music and their customer service level is rated 5 stars in every review.
Does someone on your list want Santa to leave a shiny, new bicycle under the tree this season? OpenBox Bikes & Fitness Wholesale Store should definitely be a stop on your shopping spree. This local retailer offers a wonderful selection of bicycles, scooters, and electric bikes, as well as a wide range of fitness equipment and accessories. You're sure to find the perfect bike at a superb price.
When a day of successful shopping leaves you with a case of the hungry Christmas blues, Granny B's Sub Shoppe Bakery is just the place to turn that frown around. Their wonderful selection of fresh baked goods along with one of their freshly made subs makes for a truly hometown shopping happy experience. If you'd rather immerse yourself in the latest scores while kicking back with a hearty helping of comfort food, then stop by Barley's Taproom & Pizzeria. It's known for great food and a welcoming atmosphere that's sure to put the pep back in your step.

This Holiday Season, Shop Local
Whether you're vacationing, day-tripping, or just shopping off the beaten path, local merchants in Rutherford county are loaded with more exquisite gift, home, and holiday decor ideas than you can imagine. These entrepreneurs don't just care about their wares, they take pride in their community and heritage too. There really is no better place to find the pride of historical artisan craftmanship and small-business entrepreneurship blended perfectly with foothills southern charm. So be sure to shop local this holiday season! The unique array of local stores, shops, and boutiques in the North Carolina foothills really does bring the fun back to shopping - at any time of year!