Coronavirus Information, Resources & Updates for our Tourism Industry Partners and Stakeholders
In these uncertain times, things are changing daily and we want to do our part in helping you stay informed.  The RCTDA team is focused on curating and sharing resources to help our partners navigate the challenges brought about by the pandemic. We will continue to pass along guidance and information from trusted sources as we discover it.
As always, the health and safety of the people who live, work, and visit here is our top priority. 
---
Important Notices
As Key Indicators Remain Stable, North Carolina Moves to Safer At Home Phase 2 
Phase 2, Safer At Home, begins Friday, May 22 at 5 pm
Bars, indoor entertainment venues, gyms, and public playgrounds remain closed;
Restaurants, personal care businesses, and pools open with limitations & safety requirements
What's included in Safer At Home Phase 2?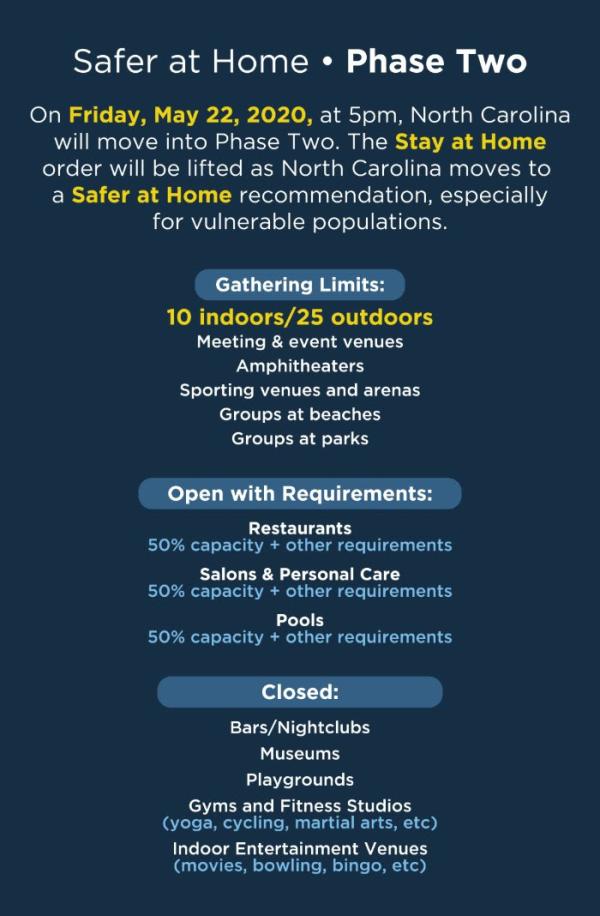 Phase 2 lifts the Stay At Home order moving into a Safer At Home recommendation, especially for people at high risk for serious illness. Teleworking is also urged when possible. 
Mass gathering limits in Phase 2 will be no more than 10 people indoors or 25 people outdoors in most circumstances. These limits apply to the following: event venues; conference centers; stadiums and sports arenas; amphitheaters; and groups at parks or beaches. 
Some businesses will remain closed in Phase 2 including: bars; night clubs; gyms and indoor fitness facilities; indoor entertainment venues such as movie theaters, and bowling alleys. 
Certain businesses will be open at limited capacity with other requirements and recommendations including: restaurants at 50% dine-in capacity with distancing and cleaning requirements; personal care businesses, including salons and barbers, at 50% capacity with distancing and cleaning requirements; pools at 50% capacity with distancing and cleaning requirements. Employees of personal care businesses will be required to wear face coverings. 
Childcare facilities, day camps and overnight camps will be open with enhanced cleaning and screening requirements. Retail businesses allowed to open in Phase 1 at 50% capacity will continue at that level. 
Public health recommendations are provided for worship services to practice enhanced social distancing and other cleaning and hygiene practices.
The Safer At Home Phase 2 runs through at least Friday, June 26. 
Read the full Executive Order #141 here
Governor Cooper Announces Modified Stay At Home Order and Transition to Phase 1 of Easing Restrictions  
On May 5th, Governor Cooper modified North Carolina's Stay At Home Executive Order, transitioning the state to Phase 1 of slowly easing COVID-19 restrictions. Executive Order 138 goes into effect Friday, May 8 at 5 pm. The full Executive Order and other helpful resources can be located below:
Fact Sheet on What's New in Phase One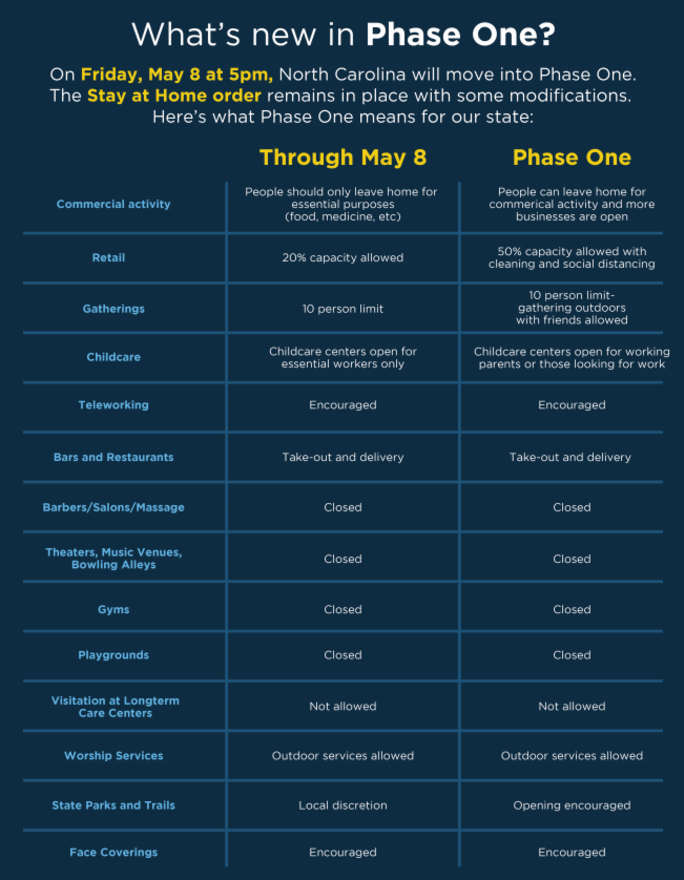 ---
On April 17th Rutherford County Issued an Amended Proclamation Of A County State Of Emergency Here.
On April 3rd Rutherford County released a proclamation to suspend all short-term rentals beginning April 5, 2020 through May 15, 2020.
-  Please read the entire Proclamation here:  Proclamation of Suspension of Residential Vacation Rentals
-  Please view the Press Release regarding the suspension here: Rutherford County Issues a Suspension of Short Term Rentals
-  Stay up to date by checking this site frequently-  https://www.rutherfordcountync.gov/alert_detail.php
On March 27th Rutherford County and towns issued a Stay at Home Order. The Stay At Home Order directed residents in Rutherford County, the Town of Bostic, the Town of Forest City, the Town of Lake Lure, the Town of Rutherfordton and the Town of Spindale to stay at home effective 6:00 am Saturday, March 28, 2020 until April 17, 2020 at 6:00 am unless extended by officials. The Order limits activity, travel and business functions to only the most basic and essential needs. To the extent individuals are using shared or outdoor spaces, they must at all times maintain social distancing of at least six feet from any other person when they are outside their residence.
View the Stay at Home Order Press Release - full details here
The NCRLA (North Carolina Restaurant & Lodging Association) is closely monitoring the COVID-19 crisis, and we have found this to be a great resource for timely updates on what this crisis means for the hospitality industry. NCRLA is working with state leaders, industry partners, and subject matter experts to advocate for policies that support businesses and employees. For more info, visit NCRLA's dedicated website.
---
Small Business Information
We know these are difficult times. The RCTDA is here to share information that can help to keep our small businesses strong. The federal, state, and local governments are providing a variety of loans and grants, to help small business owners continue to pay their employees during these unprecedented times.
Economic Injury Disaster Loans (EIDL) & Emergency Economic Injury Grants
Loan Bucket: Up to $2M in loans with interest capped at 3.75% (non-forgivable)
Grant Bucket: $10B in funding of $10k grants for 1,000,000 small (< 500 employees) businesses out of the 30,000,000 in the US will be available on a rolling basis. 
APPLY HERE: https://covid19relief.sba.gov/#/
Federal Emergency Loans (CARES Act)
The Small Business & Technology Development Center (SBTDC), a division of UNC, created a comprehensive overview of the SBA Emergency Loans programs that are part of the CARES Act. The U.S. Travel Association's webinar breaking down the CARES Act stimulus package is also available, as is their relief overview.
Paycheck Protection Program (PPP) opened Friday, April 3rd at your local bank.
SBA State by State Lenders (where you can apply for PPP loan-   https://halcyonhouse.org/sites/default/files/State%20by%20State%20Lenders.pdf
Borrower Paycheck Protection Program Application (Fill this out and bring to your bank)-   https://halcyonhouse.org/sites/default/files/Paycheck%20Protection%20Program%20Application.pdf
Borrower Paycheck Protection Program Information Fact Sheet-   https://halcyonhouse.org/sites/default/files/Borrower%20Paycheck%20Protection%20Program%20Information%20Fact%20Sheet.pdf
Coronavirus Emergency Loans Small Business Guide and Checklist-  https://www.uschamber.com/sites/default/files/023595_comm_corona_virus_smallbiz_loan_final.pdf
---
Current Job Openings in NC
The Economic Development Partnership of North Carolina is posting and updating a list of current companies that have job openings across the state. Some industries are ramping up production during the crisis and have immediate openings.
---
Visit NC 365 Webinars
Visit NC in hosting weekly webinars on Wednesdays at 10am. Information and upcoming webinars are listed here. You can also view past webinars on their YouTube channel here. Please call 828.287.6013 or email Taylor at Taylor.Hardin@rutherfordcountync.gov if you have any questions or to make an appointment with the RCTDA.