Lake Lure and the Blue Ridge Foothills is the ultimate year-round destination. From splashing around in the water at Lake Lure Beach during the summer, to viewing the rich blankets of fall color that cover Chimney Rock;  to coming home for the holidays to the millions of lights that magically light up downtown Forest City or welcoming spring during MayFest in Rutherfordton. Rutherford County really does have it all! Here's a guide to help you enjoy our season's unique offerings.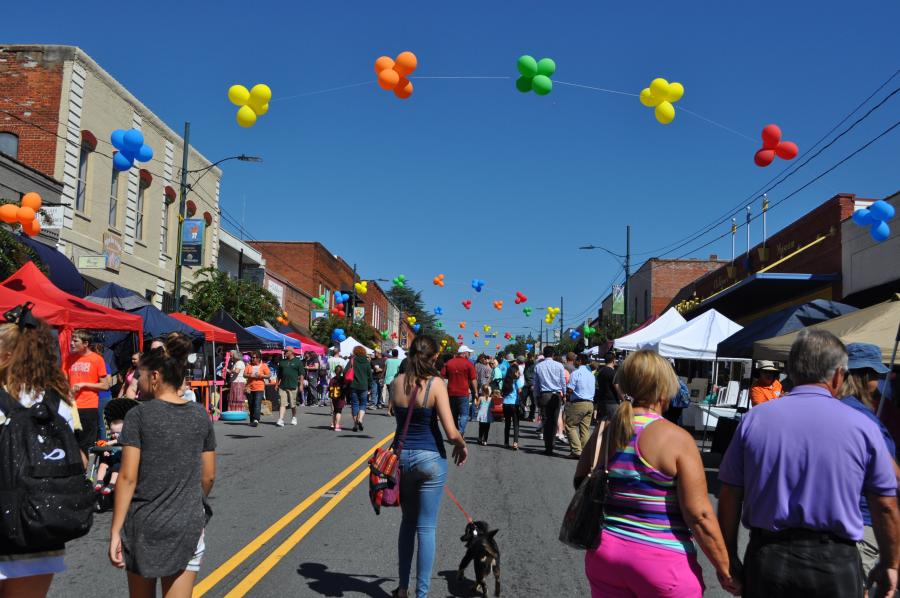 Spring:
Whether you are a local, new to town or just passing through...Spring in Rutherford County, NC will surely make you stop and smell the flowers. There is no better way to experience all spring has to offer than on our local and historic trails. Revel in the beauty of spring blooms at Morse Park or go for a run with your fur-baby at Dittmer-Watts Nature Trail in Lake Lure. In Rutherfordton there are so many trails for all ages and ability it's hard to decide which one to explore first. Kids will enjoy the Main Street Safari Trail that leads them through the path of history and right to the door of KidSenses and the Factory while history buffs favor the Historic Downtown Walking Tour that includes a series of antebellum homes, stone churches and the home of Christopher Bechtler, the famous "Mint Master". Connect with nature on the Purple Martin Greenway as you explore wildlife, creeks and even a small waterfall. While in town, learn how we are connecting our quaint towns through our network of trails along the Thermal Belt Rail Trail, a converted rail line. If hiking is not your forte plan your trip during one of our many festivals. The Mayfest Spring Craft Festival is one of the longest running festivals in North Carolina and the official welcoming of spring! Hundreds of vendors populate the downtown area with unique finds, handcrafted artwork and the best festival food around.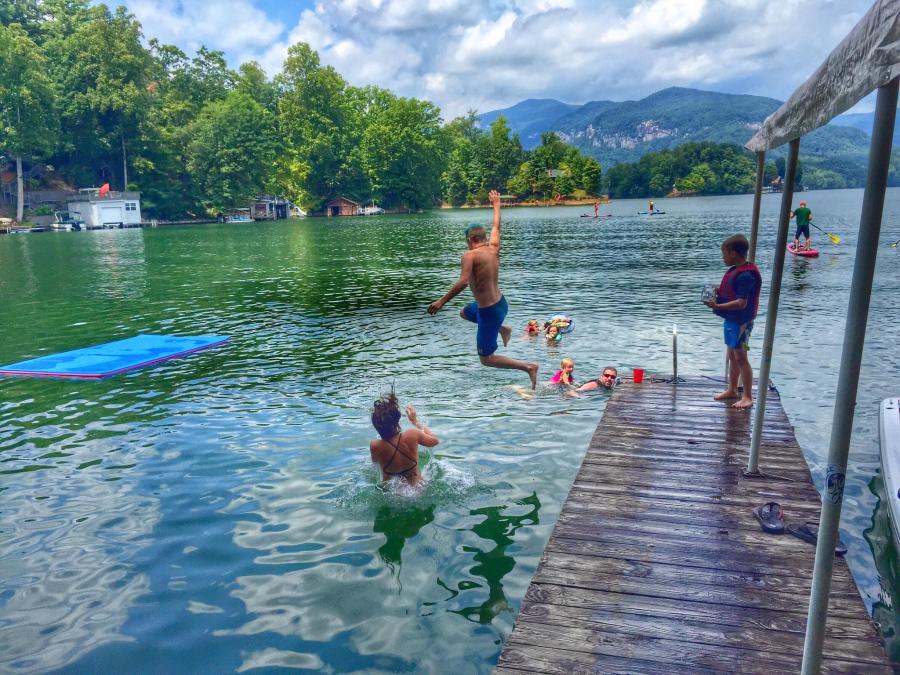 Summer:
Inspired by the iconic movie scenes once filmed here, you will "Have the Time of Your Life" as summer begins in Lake Lure and the Blue Ridge Foothills. Enjoy the view as you dine at Larkins on the Lake or La Strada while taking in those famous Lake Lure sunsets. Make sure you stay in town for the coveted Dirty Dancing Festival, which includes dance lessons, performances and the famous lake lift competition. In the mood for adventure? Make your way to Lake Lure Adventure Company for a jam-packed day of wakeboarding, kayaking, water skiing, tubing or boating. Need a little extra cardio, we have a festival for that too! The Lake Lure Olympiad's 3-day sports festival will test your athletic stamina while giving you one of the most beautiful backdrops you could ask for. Wine down with a little romance and charm by renting a house or cabin on the lake. Looking for a taste of small town Americana? Catch the local baseball team, the Forest City Owl's, in action during most of the summer including a July 4th event complete with fireworks. The Hot Nights and Cool Rides car show in August, is a must do. Held in the center of town, the event is surrounded by other classics such as an old-timey soda fountain and vintage car museum. We challenge you to check off all of our summertime events for a vacation you will never forget!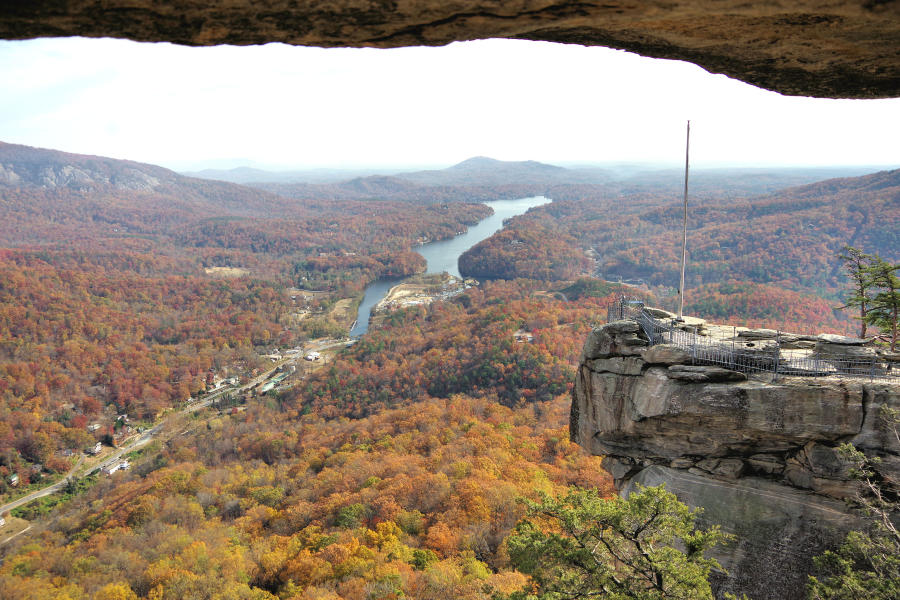 Fall:
As the leaves change, people flock to Western Carolina to capture the best views of fall foliage. The 75-mile panoramic view from the top of Chimney Rock at Chimney Rock State Park alone is worth the trip. The recently opened Skyline Trail leads hikers down a path surrounded with breathtaking views at every turn. Not up for a hike? Take one of our many driving tours to see the dramatic hues of golden yellow, crimson red and deep orange that blanket the Blue Ridge foothills. A visitor favorite, The Cherry Bounce Trail takes you throughout the county on a historic moonshine route filled with discover, intrigue and beautiful scenery. We are known to have "gold in these there hills", see if you can find some of your own while learning a little history about the NC Gold Rush on the N.C. Gold Trail which begins at the Bechtler House in Rutherfordton. We mentioned before how much we love festivals and there are plenty to choose from in the fall. The Hilltop Festival in Rutherfordton and the Lake Lure Arts & Crafts Festival draw crowds near and far as they showcase handcrafted and locally-made products, food and music. Be prepared to fall in love with the picturesque scenes of Rutherford County during one of our favorite seasons.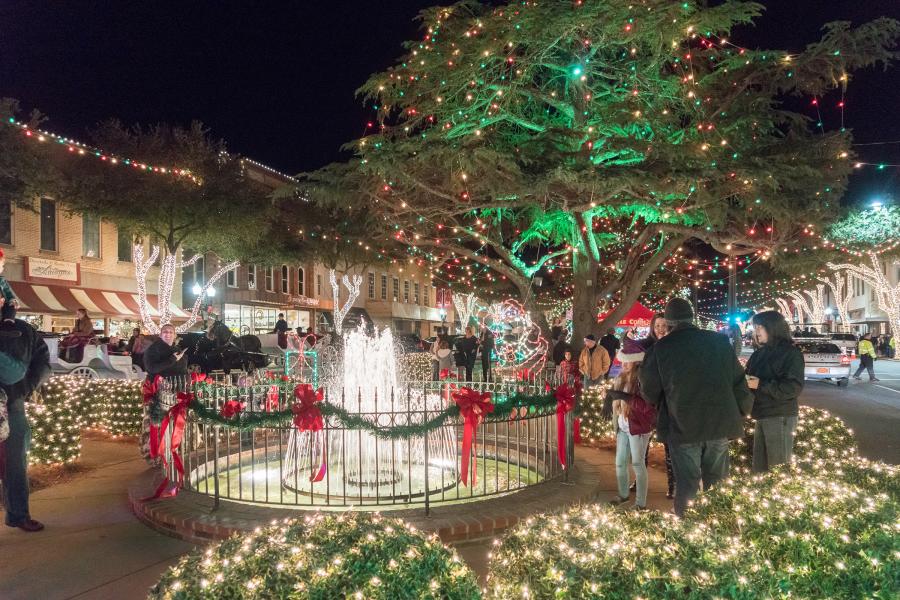 Winter:
Did you think it was a typo? NOPE...the Town of Forest City really does boast one million lights in its downtown, which has garnered them the title of "Best Christmas Towns" in Western North Carolina over the past 4 years according to Romantic Asheville. The temperatures are usually cool but not too cold to enjoy a carriage ride through downtown under the lights during their Hometown Holidays celebration. The "Paint the Town" event in Rutherfordton is a growing tradition where residents, visitors and businesses paint holiday scenes to bring windows to life! Rutherfordton has also earned bragging rights boasting the largest live Cedar Christmas tree in North Carolina and making the same list as Forest City on Romantic Asheville. Further up the road, it's a bird, it's a plane...no its Santa on the Chimney? Yes, you read correctly…"The Big Guy" practices his chimney climbing skills on the world's Largest Natural Chimney at Chimney Rock State Park. Don't forget to stop by the Flowering Bridge on your way, to view the Fairy Village from November to January.  There's so much to do during the winter months, you might need to schedule several trips to experience it all.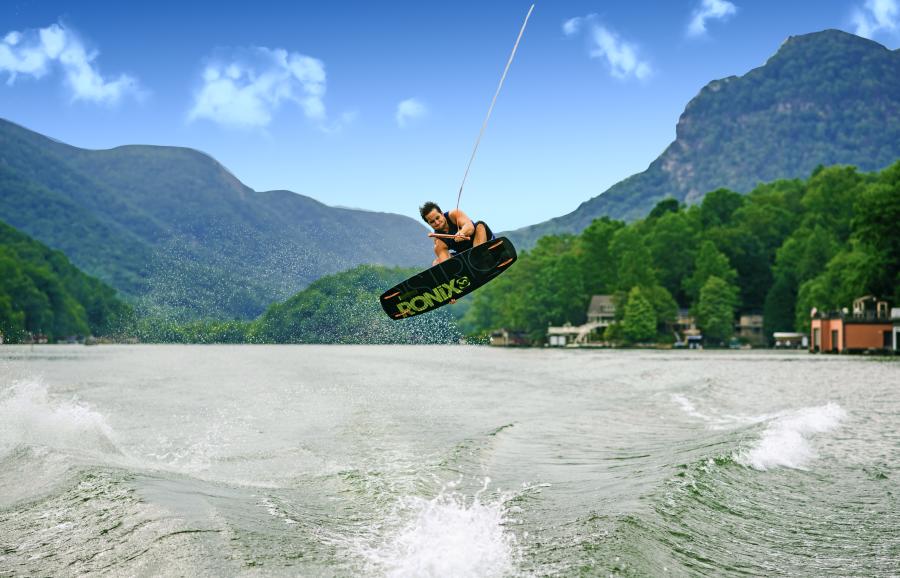 North Carolina is a state packed with culture, art, adventure and beauty. We have our own vocabulary and our own way of doing things, but if you share our love for small towns with scenic mountain views and a downhome friendly feel,  Rutherford County is the place for you. 2018  is "The Year of Travel", so pack up the crew and head to Western Carolina for a much needed weekend getaway where delicious food, southern charm and stellar views are always in season!