Sometimes one of the best parts about discovering new places and adventures is stopping to relax and enjoy the perfect meal with the perfect view. But where to nosh? When restaurants feel less than socially-distanced friendly, and outdoor activities are a sanity-saving must, the perfect picnic can be the perfect alternative. With gorgeous parks, trails and views everywhere you turn, the Blue Ridge Foothills of Rutherford county are your scenic answer to dining al fresco!
Table for Two?
If your picnic isn't complete without the option of a table to sit around, Rutherford county parks have you covered. Most area parks have picnic tables strategically located along their trails -- your biggest decision will be what view to bask in while munching! Dittmer-Watts Nature Trail in Lake Lure is ideal if you prefer a wooded wonderland, and furry family members are always welcome! Chimney Rock State Park is another of our favorites to bring a picnic 'to the table'. Its miles of trails, multiple scenic overlooks, wildlife, and famous 404-foot waterfall definitely take the picnicking experience up a notch!
Blankets Away!
Picnics and blankets go hand-in-hand -- especially if you're looking to relax and watch the world go by! Morse Park in Lake Lure is the perfect picnic blanket location for anyone wanting a variety of activity options paired with chilling on a blanket relaxation. With incredible views of Hickory Nut Gorge, beautiful gardens, and riverside areas that look like they've been ripped from a romance novel, your toughest choice will be where to spread out your blanket! Purple Martin Greenway in Rutherfordton is a wonderful 2+ mile paved trail that's also kid, bike, and pet-friendly, and mere seconds from Crestview Park so the additional activity options are limitless. The Purple Martin Greenway and the Victory National Historic Trail both run through the brand-new Kiwanis Park, which provides beautiful open space in the heart of downtown Rutherfordton.  The new park features new trails, an adventure playground, shelters, restrooms, and a dog park! Perfect for family outings, or if you're picnicking with energetic or four-legged friends! Both Purple Martin Greenway and Crestview Park offer a myriad of blanket-worthy spots to nosh, and the Greenway waterfall is a perfect zen location to picnic while kicking back and immersing yourself in nature.
Glamp-nic Style
Some picnickers require a touch of glamour. While it's not difficult to pack a basket with glassware & cutlery, the extra touches that create a true 'glamp-nic' can sometimes get lost in the shuffle if they have to be carried too far. The Rocky Broad Riverwalk in Chimney Rock Village or Main Street Park in Rutherfordton are two perfect options if your dream picnic adventure requires beautiful mountain scenery in a semi-urban setting. The Rocky Broad Riverwalk is a lovely trail that runs parallel to Main Street in Chimney Rock Village and so access to local restaurants, shops, and the river itself are merely steps away. Main Street Park in Rutherfordton is a perfectly situated small open space in downtown Rutherfordton that's decorated with planters, trellises, iron archways, benches, and a water feature making it the ultimate small-town picnic-worthy respite. Grab some tea light lanterns -- the glamp-nic is on!
Picnic Fare & Finds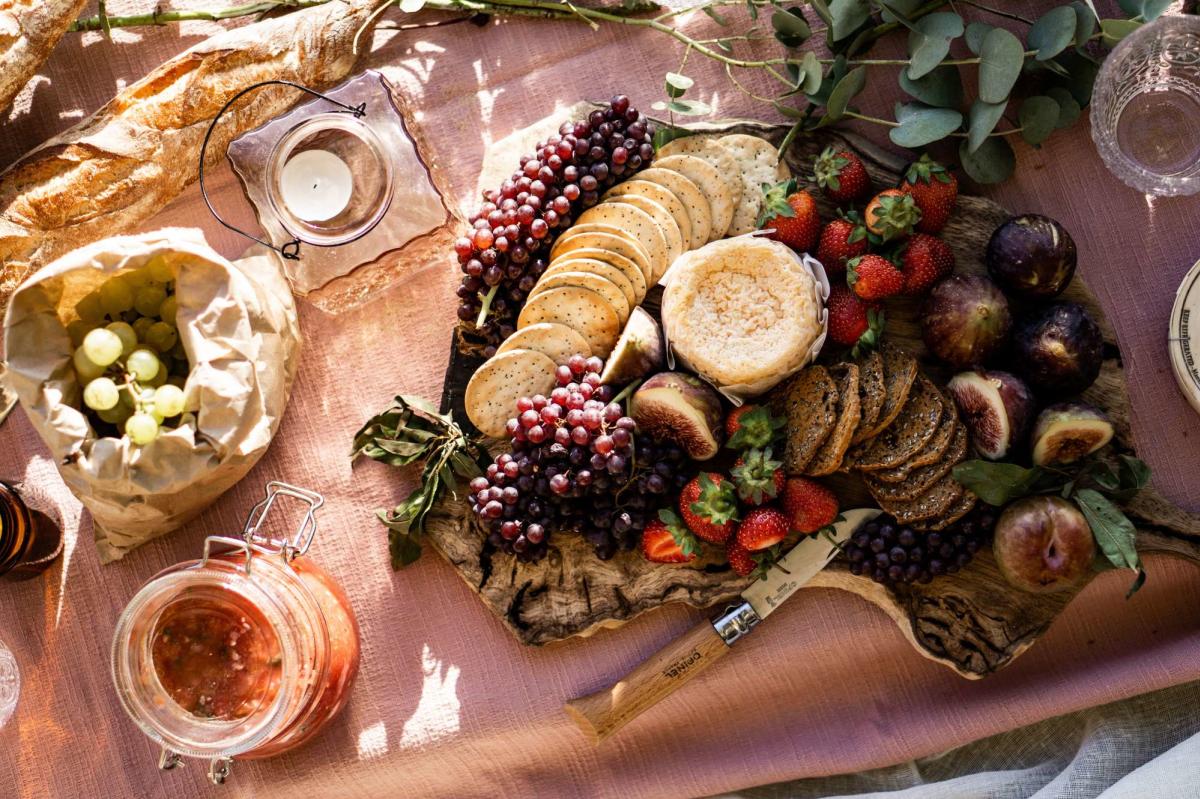 Who said PB&Js or fried chicken are the only way to go when it comes to picnicking food! Almost every restaurant in Rutherford county offers take-out, and the county's multiple small-town grocers are stocked with the best our local farmers have to offer, so there's really no way to go wrong. From yummy sandwiches and hot dogs from Jesse James Railroad Express, to more elegant options on burgers and platters at Lake Lure's Lake House Restaurant; farm-fresh veggie munchies from Fagan's Farm, or fresh fish and grilled take-out options from Rutherfordton's Garden Cafe; there really is no end to the options for incredible locally sourced picnic fare. Feeling a little on the fancier side? Grab some tapas from Burntshirt Vineyards & Tasting Room or Hickory Nut Brewery. Picnic more about sharing some hearty portions? Grab a smorgasbord from LaStrada Restaurant or Riverwalk Bar & Grill. Food truck fanatic? Stop by 1 Chef Kitchen in Spindale or Relish Food Truck in Lake Lure. 
If you'd rather grab everything from food to gear on the way to your ultimate picnic adventure, Rutherford county has that too. Stop by Bubba O'Leary's General Store & Outfitters or Washburn's General Store and grab anything from food, to gear, to outdoor games and blankets. Lured Market & Grill is another option with everything from farm to fork food to all the perfect picnic necessities. 
Picnicking Paradise
Rutherford county has it all when it comes to idyllic picnic sites -- complete with views and food to make your day an unforgettable one. So, what are you waiting for? Your perfect picnic outing is only a short car ride away!