Mother Nature may be experiencing hot flashes lately, but that doesn't mean you can't still experience the great outdoors in the coolest of fashions  -  and taking a break by a breathtaking waterfall as its cooling mist envelopes your senses is just the ticket. If you've never observed the tranquil beauty of a joyfully splashing waterfall amid a hushed forest, you're in luck. Here in the North Carolina foothills, we've got the waterfall nature walks guaranteed to wash the stress of daily life away.
Hickory Nut Falls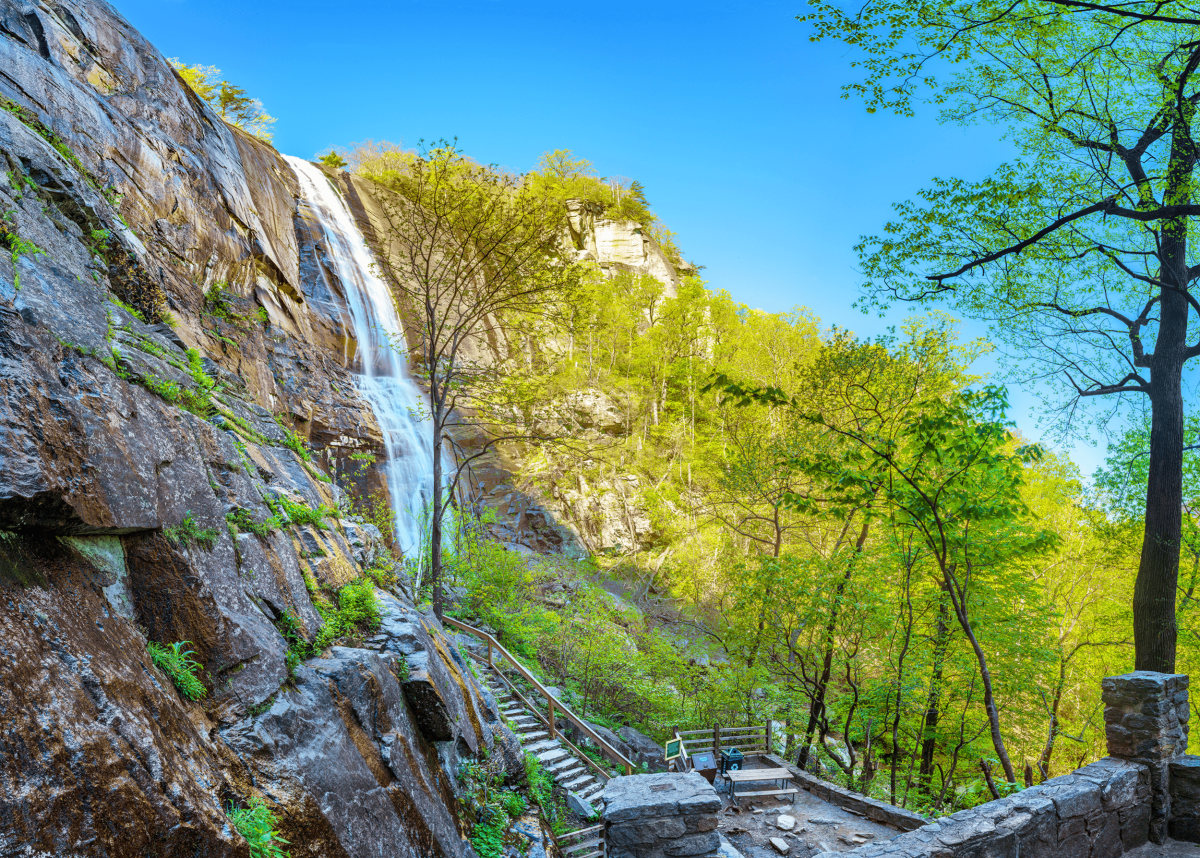 Located in Chimney Rock State Park, this incredibly beautiful 404-foot waterfall is the second highest natural waterfall east of the Mississippi River. The park's Hickory Nut Falls Trail leads to the base of the falls and is a moderate, kid-friendly, gently rolling hike through wooded forests and across rocky terrain culminating in a magnificent view next to the waterfall base. Along the way you'll also have a bird's eye view of Rainbow Falls from across the gorge.
Location
431 Main St, Chimney Rock, NC 28720 - The park entrance is adjacent to Chimney Rock Village
Cost
Adults $17.00
Youth $8.00
Children under 4 FREE
Adult, Youth, and Family passes to Chimney Rock State Park can be purchased in advance online and never expire.
Dog-Friendly
Yes -- Leash Required
Little Bearwallow Falls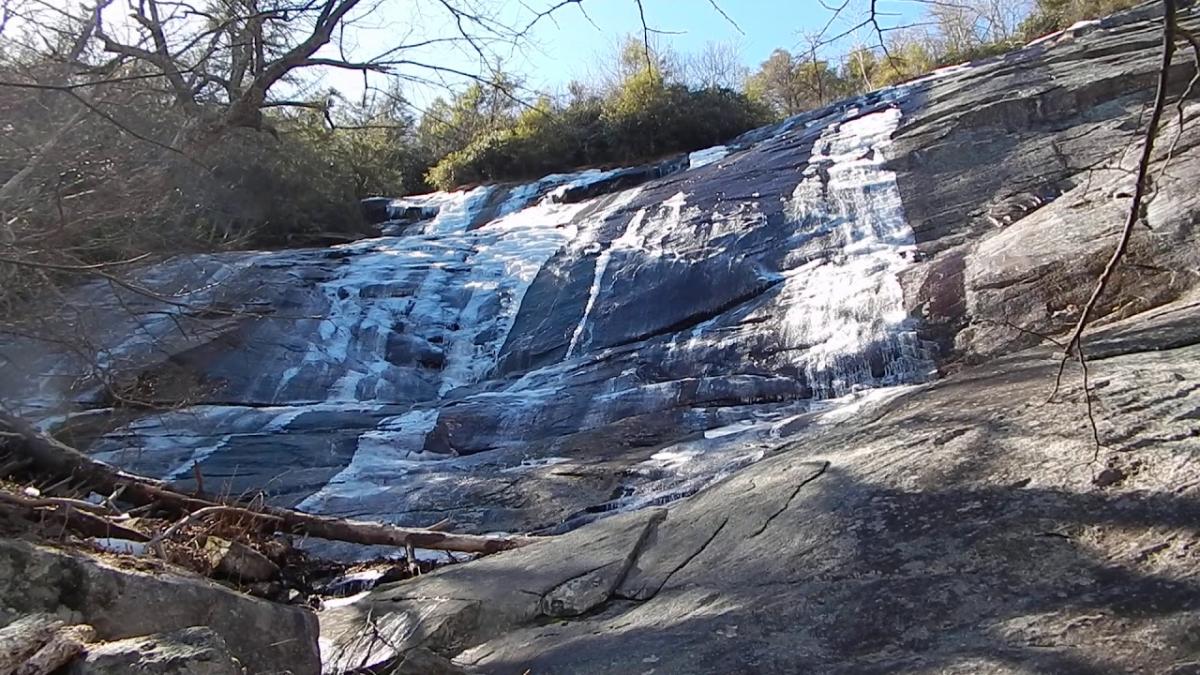 Located in the Florence Nature Preserve, this 100-foot cliff waterfall is accessed via a moderate 2.3-mile out and back hike through the Hickory Nut Forest and is part of the Hickory Nut Gorge State Trail System. Along the trail to the falls you'll be treated to spectacular views of Hickory Nut Gorge; not to mention fantastic birdwatching opportunities!
Location
3836 Gerton Hwy, Gerton, NC 28735 – Approximately 15 min from Lake Lure Town Center        
Directions
From the Lake Lure Welcome Center, drive about 7.3 miles west on US 74-A. The Upper Hickory Nut Gorge Trailhead will be on your right. It is also the trailhead for the Wildcat Rock/Little Bearwallow Falls Trail.
Cost
FREE
Dog-Friendly
Yes -- Leash Required
South Mountains Gamelands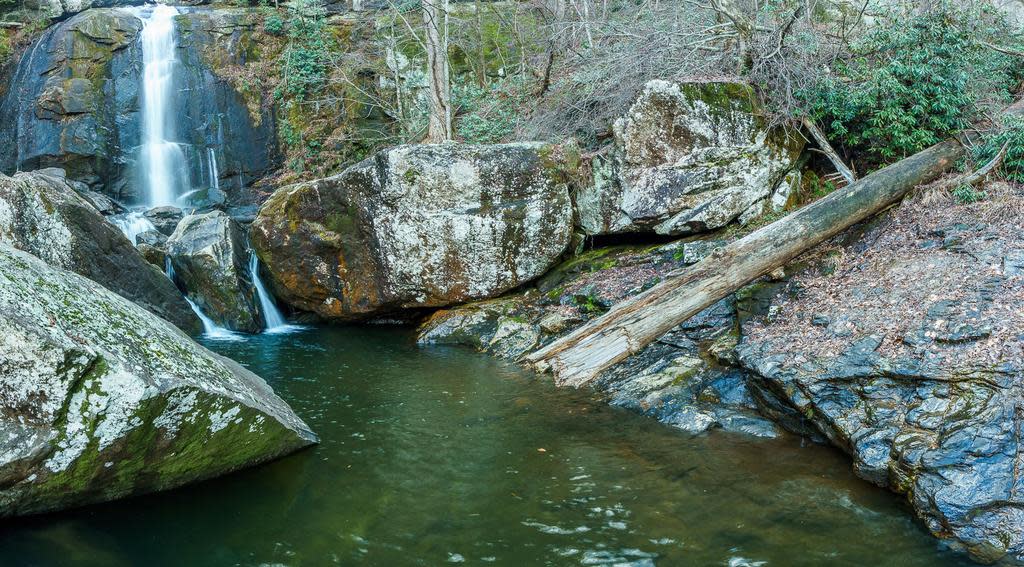 For experienced hikers and outdoor enthusiasts, the trails in the South Mountains Gamelands at South Mountains State Park are a rugged wilderness lover's dream. Multiple waterfalls ranging from the impressive High Shoals Falls to the picturesque Pot Branch Falls are nestled deep in the forests of this gorgeous nature preserve. Trails throughout South Mountains State Park are moderate to advanced hikes, but the scenery and unsullied beauty of the natural terrain makes the adventure well worth the effort!
Location
US-64 & Roper Hollow Rd, Silver Creek, NC 28655 - Approximately 25 minutes north of Bostic
Directions
From the Bostic Lincoln Center, take N. Main Street to Pearidge Road, then exit onto US-64 E for approximately 13.4-miles.
Cost
FREE
Reservations required for campsites.
Dog Friendly
Yes -- Leash Required in most areas
Pearson's Falls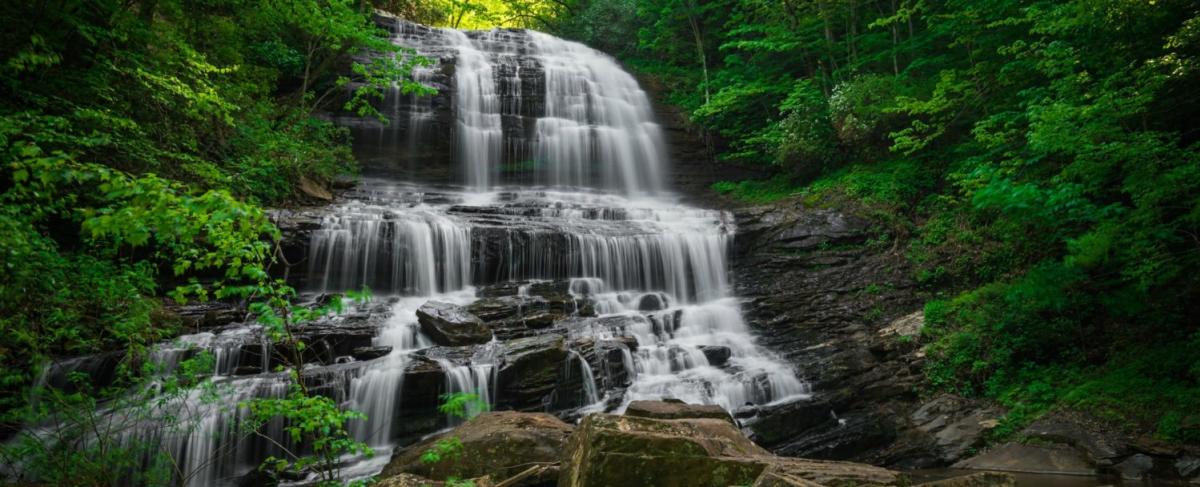 Located amid a 268-acre Botanical Preserve and wildlife sanctuary, this spectacular 90-foot, multi-tiered waterfall is truly incredible to behold. The pristinely maintained trail loosely follows Colt Creek, and is an easy hike that features picturesque stone bridges and a few photo-worthy picnic areas. It's perfect for any age and ability level.
Location
2748 Pearson Falls Rd, Saluda, NC 28773 - Approximately 45 minutes from Lake Lure Beach
Directions
From Lake Lure Beach take US-64 E to NC-9 S. Travel about 9-miles then take NC-108 W towards Tryon. Right on Harmon Field Rd, then a slight right on US-176 W to Pearson's Falls Rd.
Cost
Adults $5.00
Children $1.00
Children under 6 FREE
Dog-Friendly
No Pets - Only leashed service dogs allowed
After a fantastic day of waterfall bliss, take a short drive back to the welcoming towns of Rutherford county to unwind and relax. In Chimney Rock Village, The Esmeralda offers historically beautiful accommodations and family-friendly cabins, all with spectacular views. In Lake Lure, The 1927 Lake Lure Inn and the Geneva Riverside Inn both specialize in stress-free lodging with fantastic amenities. In Rutherfordton, the Carrier Houses Bed & Breakfast exudes old world charm in the heart of the town's historic district; and in Golden Valley, Yogi Bear's Jellystone Park is like no campground you've ever experienced -- complete with cabins, yurts, and plenty of onsite amenities to make your stay a truly relaxing experience.
Let the towns and waterfall adventures of the NC foothills wash your stress away and refresh your senses! Countless memories for the making are only a short car ride away.