June 5th is National Trails Day. What better way to celebrate this wonderful, slightly obscure holiday than to hit the trails of the Western North Carolina foothills! Here in Rutherford county, we've got the perfect hiking experience for every ability and agility level.
Easy Does It
For those that prefer a leisurely stroll through a woodland wonderland, these trails are a perfect fit. The Purple Martin Greenway is a 1.4-mile dog-friendly greenway trail open to runners, walkers, and cyclists, and is connected to both Crestview Park and the new Kiwanis Park via multiple access points. The sprawling ICC Trails are perfect for walking or running and travel through a combination of wooded areas and open fields along the campus of Isothermal Community College. The Thermal Belt Rail Trail is a picturesque, 13.5-mile combination of small-town charm and broad tree-lined pathways that follows the old railway line from Spindale to Ruth, passing through the towns of Forest City and Rutherfordton. It's wonderful for walking, running, or cycling, and is both pet-friendly and wheelchair accessible. 
A Touch of Adventure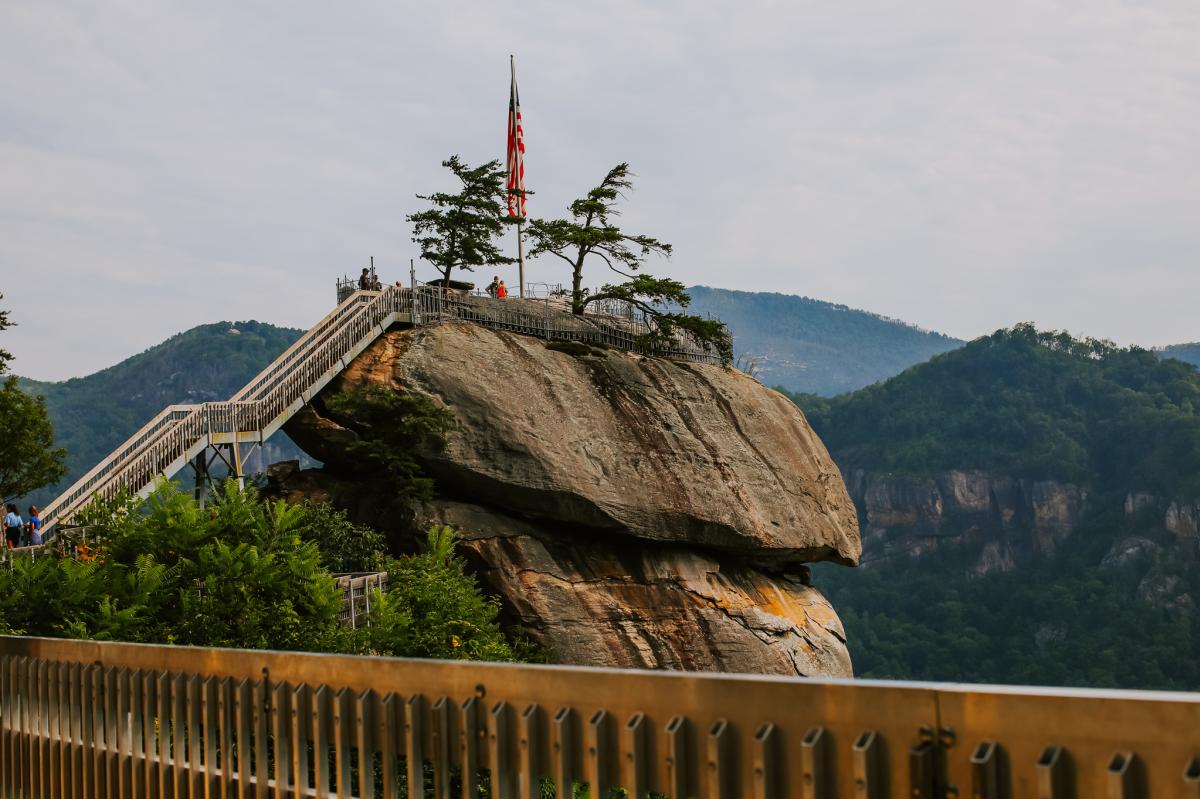 If an intermediate level of effort is just what the doctor ordered, then we've got your perfect prescription. The Dittmer-Watts Nature Trail is a 3.5-mile series of trails that winds along Lake Lure through a variety of forested areas and passes along the Mountain Laurel Trail Overlook. Buffalo Creek Park boasts over 12-miles of trails through 1,527 acres of natural forests along the head of Hickory Nut Gorge and is great for runners, hikers, or mountain bikers with its terrain changes and moderate climbs. The trails at Chimney Rock State Park are an intermediate hiking dream with options like the Four Seasons Trail, the Outcroppings Trail, and the Hickory Nut Falls Trail that brings you to the base of one of the tallest waterfalls east of the Mississippi. 
Pushing the Boundaries 
Speaking of Chimney Rock State Park, if your hiking experience isn't complete without pushing your athletic abilities to the limit, check out the Exclamation Point and Skyline Trails. These exhilarating trails take you through uphill climbs, switchbacks, and along the ridgeline to experience views of the gorge from a breathtaking 2,640 feet above sea level. Looking for a backcountry trail experience that'll test your endurance? The Weed Patch Mountain Trail is an 8.6-mile trail that extends from the highest point of Buffalo Creek Park and loops up to Eagle Rock, culminating in simply incredible views of Hickory Nut Gorge. Want to take your hiking experience even deeper into nature? The South Mountains Game Lands and State Park is 40 miles of challenging trails through some of Western North Carolina's most rugged areas. It's open to seasoned runners, hikers, horseback riders, and mountain bikers, and offers a variety of the most adrenaline-filled views of Golden Valley you'll ever experience. 
Stay Calm & Hike On!
No matter what your ability level, National Trails Day is an opportunity to test your hiking skills while experiencing the beauty of Western North Carolina. So come on out to the trails of Rutherford county -- forested memories of majestic mountains and glorious valleys are here waiting for you!