Summer vacation is nearing its end and many families (and teachers!) are getting ready for the official start of a new school year. No matter whether you're a parent, student, teacher, or simply a lover of learning, there's always room for immersive education outside of the classroom! Here in Rutherford county and the Blue Ridge Foothills, there's a plethora of opportunities to expand anyone's knowledge of history, geography, art, and science -- and it's all easily accessible!
Chimney Rock State Park
(science, history)
Chimney Rock State Park is well known for its hiking trails and breathtaking views, but they also have fantastic education programs! The Park offers year round field trip and educational programs including their seasonal Homeschool Program sessions which get students up close and personal with the insects, animals, and geography that make up this incredibly complex state park. Looking for a fascinating learning opportunity that's open to all ages? Register for one of their Naturalist Niche guided hikes! There's no better way to immerse students and lifelong learners in the science of nature.
Bechtler House Heritage Center
(history)
Did you know that America's first one-dollar gold coin was minted by Christopher Bechtler? How about that the NC gold rush predated California's by 50 years? If you're a student of history, a trip to the Bechtler House in Rutherfordton is a must. Learn about the history of gold mining in North Carolina and Christopher Bechtler's integral part in its success. Afterwards, take a walk through Rutherfordton along the commemorative trail known as the Gold Mile, and be sure to explore the town's Bechtler Mint and Historic Park. It's a golden learning opportunity that shouldn't be missed!
The Bostic Lincoln Center
(history, critical thinking)
History is full of mysteries, but none quite as intriguing as the origins of our 16th President, Abraham Lincoln. The Bostic Lincoln Center offers a thought provoking journey through evidence that Honest Abe was actually born on Puzzle Creek near Bostic, North Carolina, then moved with his mother to Kentucky as a young child. This fascinating nonprofit museum offers insightful educational tours and is open Thursday through Saturday. Admission is free, but donations are accepted. It's definitely a must for history buffs who love a good sleuthing adventure. 
Lake Lure Flowering Bridge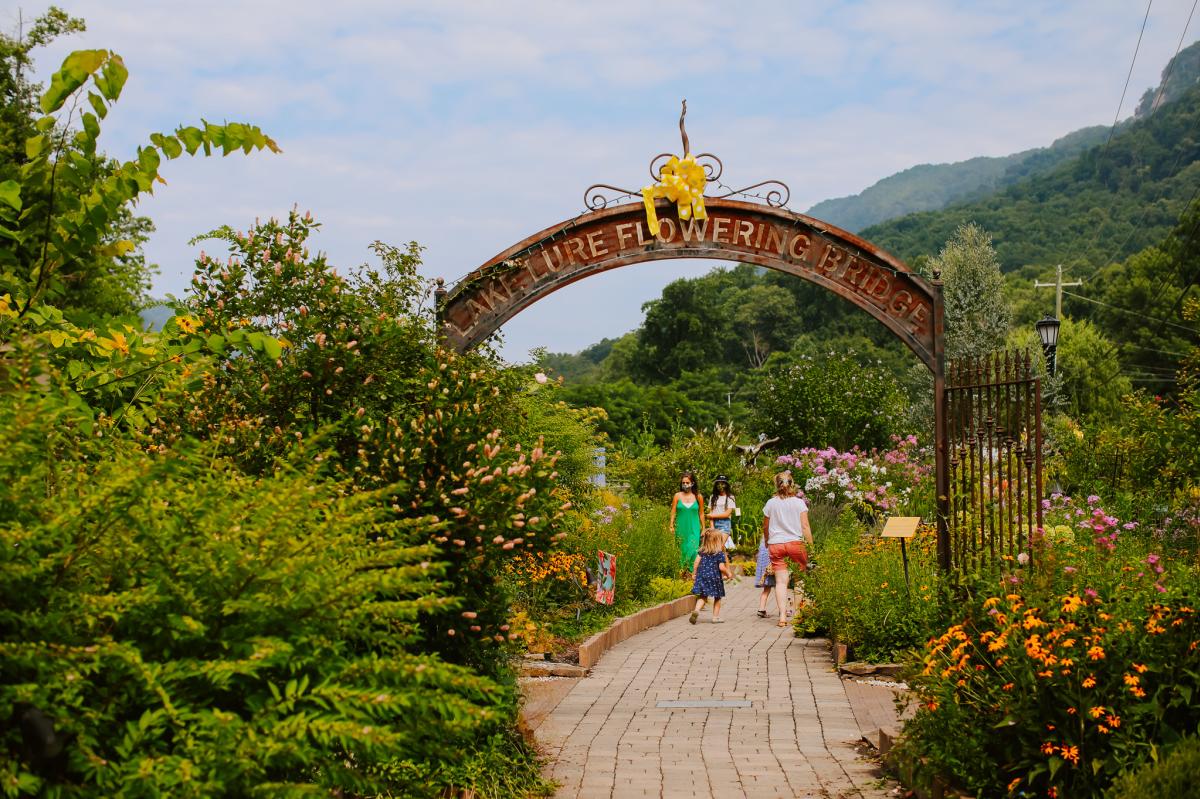 (science, art)
Built in the 1920s, this picturesque highway bridge was transformed in 2011 by volunteers into the "Gateway to Somewhere Beautiful". Known as the largest Sensory Garden for the Blind and Visually Impaired in North Carolina, it's also a certified wildlife habitat, a monarch butterfly waystation, and is designated a 3D mural on the Appalachian Mural Trail. Monthly classes are offered in subjects such as bees and pollinators, gardening, composting, and more, and guided tours are available. It's an artistic expression of nature that's a feast for all the senses!
Cherry Bounce Trail 
(history)
The Cherry Bounce Trail is a driving tour that loosely follows an old moonshiners' route through Golden Valley and the North Carolina foothills, and features wonderfully historic stopping points along the way. Places like Washburn's General Store which was originally established in 1831 as a stagecoach stop, multiple Revolutionary War markers, and the Rutherford County Farm Museum are perfect spots to learn more about the state's and the nation's fascinating past. If you're searching for a journey through history that's as enthrallingly beautiful as it is interesting, this is the drive to take!
Rutherford County Visual Arts Center
(art, art history)
The Rutherford County VAC is a nonprofit visual arts guild that offers unique classes and workshops, in addition to an onsite gallery and collaborative spaces for local artists. Painting classes, yarn studio workshops, and free history of art classes are available year-round for artists and art lovers of all ages. They also host an annual Celebration of the Arts Festival open to showcase local and student artists of all styles and abilities. It's a wonderful place to experience the beauty of art and immerse students in its endless possibilities. 
KidSenses Interactive Museum 
(science, math)
The KidSenses Interactive Museum in Rutherfordton is a mecca for young students who enjoy hands-on learning. The museum's many interactive exhibits, assembly programs, workshops, discovery garden, and innovative Factory for aspiring inventors all correlate with the NC Essential Standards for Science. They even offer educator guides to extend the museum's lessons back into the classroom. KidSenses is open Tuesday through Saturday. It's definitely the place for students to experience immersive learning at a whole new level!
Lifelong Learning
Back to School isn't just about the classroom. From young students, to adults with a thirst for knowledge, the Blue Ridge Foothills of North Carolina have education opportunities for almost every age and interest. Come on out and explore -- we guarantee you'll find an immersive, nature-filled, educational experience like no other!