Chimney Rock and Lake Lure are the perfect places to enjoy the beauty of the North Carolina foothills at any season, but the holidays make them even more spectacular. From holiday lights and decorations bathed in crisp mountain air, to traditional caroling and Christmas shopping, Santa Claus and fundraising galas; this is the place to be to experience true holiday magic.
Chimney Rock
Every year at the beginning of December Chimney Rock Village morphs into a quaint holiday wonderland. Originally settled by the Scotch-Irish in the 1600s, the town's annual Old Fashioned Christmas in Chimney Rock Village celebration is true to its roots featuring live music, wonderful holiday shopping opportunities, and incredible decorations including a huge town Christmas tree.
Where to Stay
Chimney Rock Village boasts a number of charming bed and breakfast style inns that exude holiday spirit. We recommend the Broad River Inn. Located on the banks of the Rocky Broad River in the heart of the village, this lovely accommodation offers riverfront suites with private balconies that overlook incredible mountain views. If you're looking for a bit more space to stretch out, houses, cabins, and chalets like The River House at Chimney Rock, 4 Sister's, and Chimney Rock Manor are perfect options for cozily kicking back at the end of a day of holiday cheer.
Local Dining
For rib-sticking barbeque in a sports bar-style setting, there's no better place than Chimney Rock Smokehouse. If you're looking for casual fare served with exceptional craft beer and incredible views, then Hickory Nut Gorge Craft Brewery is an absolute must. For nibbles and beverages you can't go wrong with Burntshirt Vineyards Tasting Room and Bistro. Featuring a menu of small plates and well-crafted entree options all perfect for wine pairings, add in the panaoramic views and it's inevitably the perfect low-key holiday noshing location.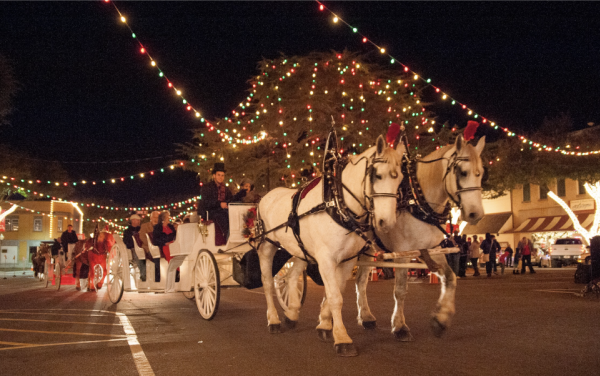 Festive Activities
The holidays aren't the holidays without Santa, and where better to hang with Santa and Mrs. Claus than Chimney Rock State Park? Enjoy live music, hot cocoa and cookies, and the ultimate elf himself rappelling down a rock face. Now that's a serious ring in the holiday feeling! If you happen to be in the area in the first half of December, be sure to experience Chimney Rock's Breakfast with the Elves. Hosted at The Old Rock Cafe, this magical morning features Christmas crafts and stories, as well as the opportunity to share your holiday wish list with Mrs. Claus. When intellectual holiday goofs are more your style, check out the Christmas Trivia, Cocktails, & Ugly Sweater Competition evenings at Chimney Rock Smokehouse. Held all 3 Fridays before Christmas, it's sure to be an evening of eyebrow-raising fun.
Lake Lure
The town of Lake Lure exudes southern charm year-round, and the holiday season is no exception. From holiday crafts and dinner parties, to the annual Christmas play and the foothills' most beautiful holiday gardens, Lake Lure is truly full of holiday cheer.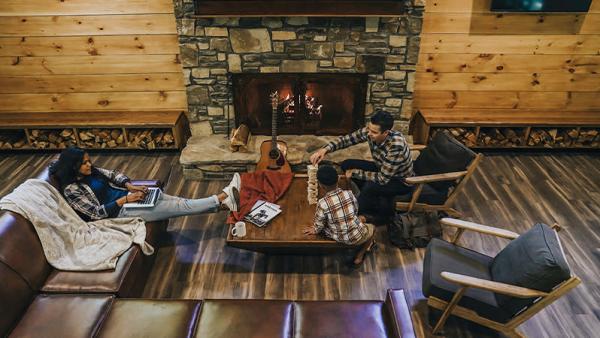 Where to Stay
There's nothing quite like the experience of staying at a bed and breakfast to get you in a serene state of mind going into the holiday season, and the Grafton Lodge Bed & Breakfast fits the bill perfectly. This small, private property is beautifully located just 6/10ths of a mile from the lake. Each room has a private entrance, balcony access for incredible views, and they even offer packages if you're looking to make your stay extra special. For those who prefer a picturesque hotel experience to boost your holiday spirit, check out the 1927 Lake Lure Inn & Irongate Spa. This charmingly historic hotel sits lakeside, offers an award-winning spa onsite, and has two different dining options each with panoramic mountain views.
Local Dining
The Veranda Restaurant pairs spectacular views with elegant dining to create a wonderfully relaxing atmosphere that's sure to get you in a holiday state of mind. Legends on the Lake at Rumbling Bald Resort offers a variety of casual dining options, complete with a sports bar and game room for getting into the spirit with a bit of active fun. For an award winning meal at a great price, try La Strada at Lake Lure. This family-owned restaurant is known for its wonderful Italian dishes, as well as steaks, burgers, and seafood; so it's sure to please everyone's taste buds and appetite.
Festive Activities
There's nothing like holiday lights and greenery to usher in holiday cheer, and The Lake Lure Flowering Bridge is one of the best places to find it. Be sure to stop and smell the Christmas roses as you take a relaxing stroll through this season's Holiday Winter Wonderland. It's filled with themed vignettes, light displays, and whimsical local artisan-designed scenes that are guaranteed to boost your feelings of holiday happiness. When your idea of a perfect holiday evening is dinner and a show, then don't miss the Dickens Christmas Musical Evening at The 1927 Lake Lure Inn & Spa. Performances will be held December 21st through 23rd, and their menu featuring stuffed cornish game hen, gouda potatoes, and flamed bananas foster is the stuff sugarplum dreams are made of.
Around the County
The small towns of Rutherford county are full of fun activities - especially in winter! Outdoor enthusiasts will love the Naturalist Niche winter birding hikes, animal encounter events, and Namaste in Nature guided meditation walks at Chimney Rock Park. The Holiday Artisan Market at the Rutherford County Farmers Market is filled with local artisan gifts, handmade wares, and a hefty helping of holiday cheer. And speaking of holiday cheer, there's nothing more magically festive than Forest City's Hometown Holiday Festivies & Market. From ice skating and light displays, to horse-drawn carriage rides around the town square - you've never experienced December holidays quite like this.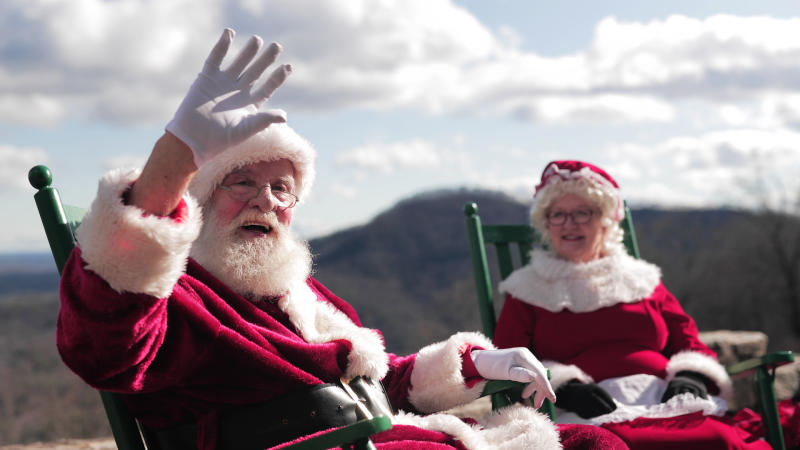 Happy Holidays!
There's nothing more magical than experiencing the beauty of the holidays in North Carolina foothills fashion, and there is no better place to do it than Rutherford County. With small town festivities nestled in the majesty of some of nature's most panoramic scenery, it's an experience that's guaranteed to ensnare the senses like no other. Make plans to join us this season. It really is the most wonderful time of the year!