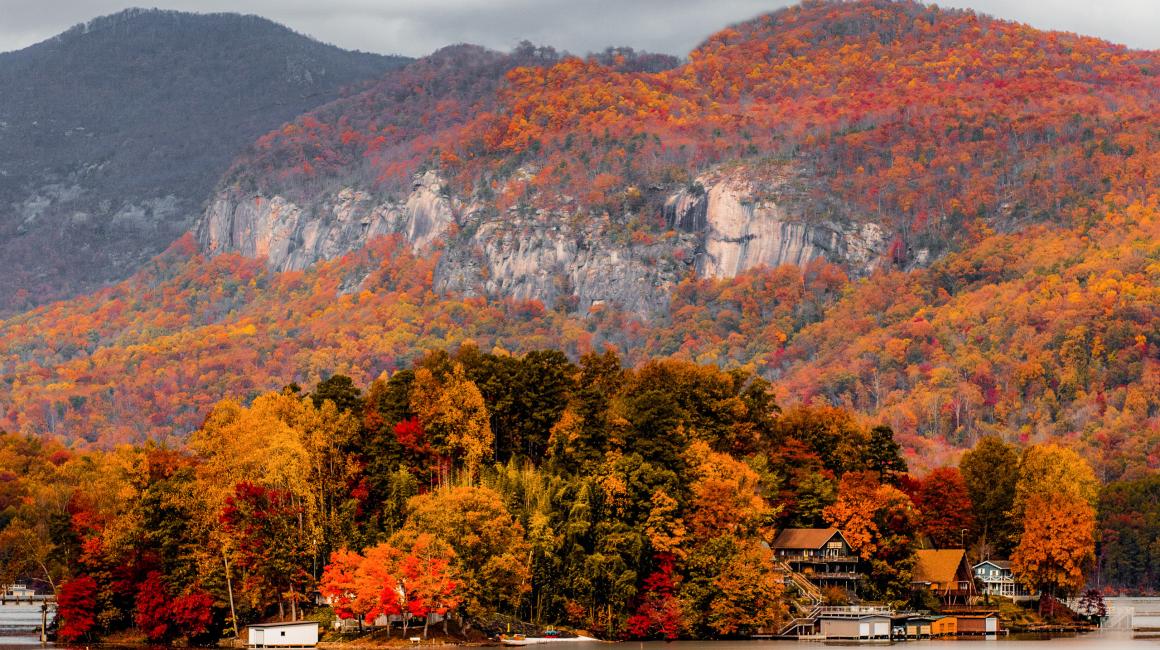 Photo courtesy of instagram.com/tiffanyrosemarino/
Thanksgiving is a time of gratefulness, but if the thought of cooking, cleaning, & staring at the same four walls you've looked at all year make you feel less than grateful, we've got the answer. For a Thanksgiving getaway location full of opportunities to make incredible memories that include spectacular views, sumptuous food, and exhilarating activities look no further than Rutherford County, North Carolina. No matter whether you prefer your holiday weekend getaway small, intimate and pampered, or more of a nature-filled family outing; Rutherford County options for getting away from it all this Thanksgiving are plentiful.
Where to Stay
If the call of Mother Nature brings to mind cabins & campgrounds, we've got just the spots! Hickory Nut Falls Campground in Chimney Rock and River Creek Campground in Rutherfordton offer tent, cabin, and RV sites with easy access to a variety of activities. Yogi Bear's Jellystone Park in Golden Valley has treetop cabins for the ultimate glamping experience, in addition to a variety of tent & RV sites and loads of onsite activity options. If your Thanksgiving gathering includes furry, four-legged "children", 4 Paws Kingdom Campground & Dog Retreat has a Thanksgiving Weekend package that includes a bowling tournament, turkey trot trail run, dog training & games, and Thanksgiving dinner delivered to your campsite. 4 Paws does require a 3 night minimum for Thanksgiving weekend, and campers must be over 18, so be sure to check their website for details.
Cabins in every shape, size, and location are also a breeze to find and book. No matter whether you're looking for a single night stay, a week's respite, or a long weekend outing; one quick search on the VisitNCSmallTowns website and you'll find literally hundreds of options. There's sure to be the perfect rental to suit your needs and budget.
If onsite creature comforts are more your style of Thanksgiving getaway, Rutherford county has many fantastic options. The Esmeralda Inn in Chimney Rock offers a number of packages including spa services, horseback riding, or discounted Chimney Rock State Park passes. The 1927 Lake Lure Inn & Spa is another historically beautiful hotel possibility with loads of amenities and fantastic nearby activities, and you can never go wrong with booking a stay at the beautiful Rumbling Bald Resort on Lake Lure.
Other great local hotel and lodge options are The Carter Lodge, The Riverside Lodge, and the Broad River Inn in Chimney Rock, The Grafton Lodge, The Lodge on Lake Lure, and Geneva Riverside Lodging in Lake Lure, and The Carrier Houses Bed & Breakfast and The Firehouse Inn in Rutherfordton. 
Where to Feast
No Thanksgiving getaway is complete without a fabulous feast, and Rutherford County definitely has you covered. The Esmeralda's award winning restaurant will be hosting Thanksgiving dinner from 11 am to 5 pm on Thanksgiving Day, and from 5 pm until 9 pm on Friday and Saturday. The 1927 Lake Lure Inn & Spa will host a sumptuous Thanksgiving Feast on Turkey Day from 10 am to 4:30 pm. Rumbling Bald Resort is also offering prepared Thanksgiving feasts for pick up to members and guests. Advance reservations are required for all locations, so be sure to call or check their websites for details.
Holiday Weekend Activities 
Hiking trails for every age and ability are always plentiful in the foothills, but there's also a number of other wonderful options that will have your Thanksgiving weekend feeling more festive than ever. 
Every Saturday in the month of November Chimney Rock State Park offers Hike with a Naturalist from 11 am to 12 pm. It's free with park admission, and is perfect for anyone who wants to learn more about the terrain and its flora and fauna. In addition, over the Thanksgiving weekend the park will host Family Animal Encounters at 2 pm each day, which is a great opportunity to learn more about the animals that call Western North Carolina home straight from their local animal ambassadors' mouths!
If Thanksgiving has you yearning for the start of Christmas cheer, Rutherford county knows how to kick off the holiday season right. The town of Lake Lure will host their annual tree lighting on Friday, November 27th, Rumbling Bald Resort will hold their tree lighting festivities on Saturday, November 28th, and Forest City's famed tree lighting ceremony is being held on Thanksgiving night, November 26th. Official ceremonies notwithstanding, the foothills towns of Rutherford County will all be decked out in their holiday finery, so even just wandering down Main Street is sure to bring on feelings of holiday happiness. 
Small Business Saturday takes place Thanksgiving weekend on Saturday the 28th. Rutherford County towns & villages are filled with local shops and boutiques full of everything from baubles & tchotchkes, to handcrafted pottery, jewelry, clothing, and a variety of local artisan wares; so be sure to take advantage and support the area's small businesses. It's the perfect opportunity to cross tons of gifts off your holiday shopping list!
Come Make Thanksgiving Memories with Us!
Thanksgiving is a time to cherish memories past & enjoy new memories being made with family and friends, and in the foothills of Rutherford County you're sure to make memories that will last a lifetime. So come on out! We look forward to enjoying the holiday weekend with you!