For history buffs and movie buffs alike, The Last of the Mohicans is a film that stands the test of time. From historical tidbits, to spine tingling battles, intrigues, and romance; there's no doubt as to why it's become a revered classic – so much so that generations of movie-goers aspire to walk in the footsteps of Hawkeye, Cora, Magua, and the Mohican and Huron tribes. While the movie as a whole was filmed in multiple locations throughout the North Carolina foothills, some of the most memorable scenes were shot in Rutherford county's Chimney Rock State Park.
Views of the Huron Village
Hike the Outcroppings Trail or take the park's elevator up to the Sky Lounge and exit to find one of the most incredible views the foothills has to offer. The 535-million year old monolith known as Chimney Rock stands 2,280 feet above sea level and offers a 75-mile panoramic view of Hickory Nut Gorge, Lake Lure, and the surrounding mountains. It may (technically) no longer exist, but if you look just above Chimney Rock Village close to halfway up the mountain you can still see where the Huron village set once stood.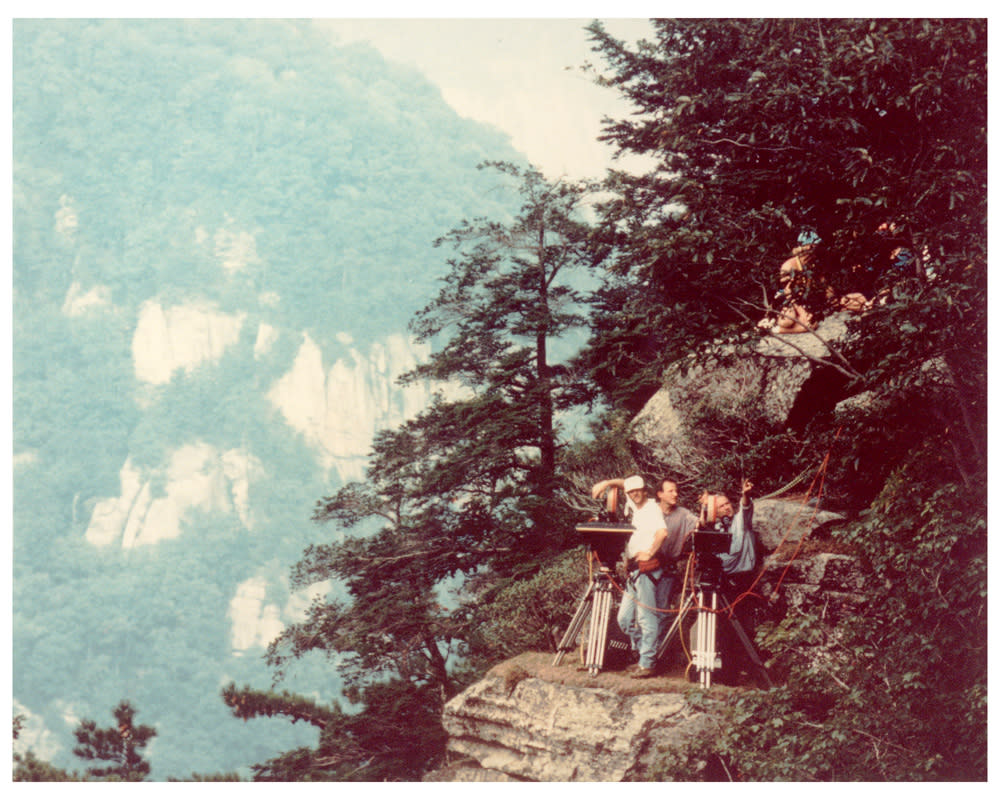 © Chimney Rock State Park
Inspiration Point & Groundhog Slide
The cinematography in The Last of the Mohicans is some of the most breathtaking ever shot, and the views from Exclamation (aka Inspiration) Point truly will leave you breathless. Camera crews used this vantage point to capture panoramic views and shots of Hickory Nut Falls. Feeling emotionally inspired? This is the spot where Cora and Hawkeye embrace after Chingachgook kills Magua. From the various vantage points along the trail you'll have views of Groundhog Slide. You may be able to recognize the area where Uncas and Delawares hold their war ritual, and the sweeping views from after Hawkeye delivers the mercy shot that kills a burning Duncan in Huron village.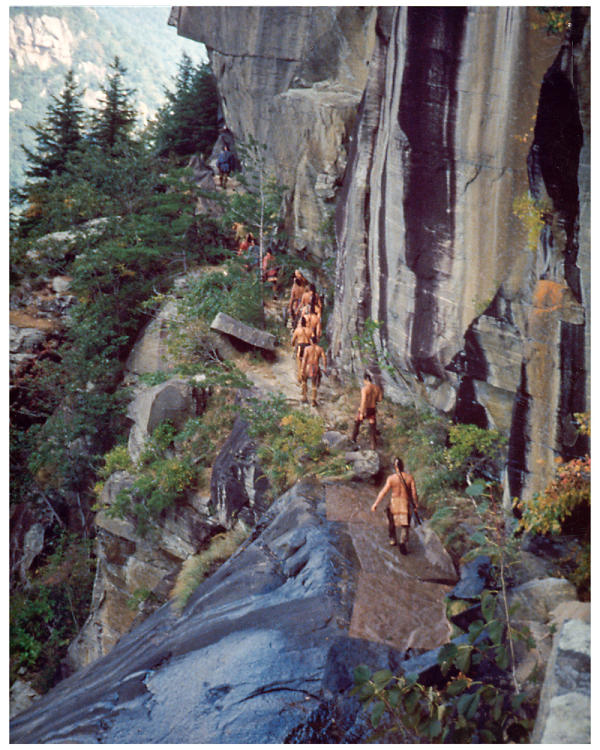 © Chimney Rock State Park
Nature's Showerbath
Standing at 404-feet, Hickory Nut Falls (aka Nature's Showerbath) is one of the tallest waterfalls east of the Mississippi. The top of this incredible natural wonder was the scene for the final battle between the Mohicans and Hurons, and Alice's leap to her death after Uncas' untimely demise. If you prefer to view the majesty of the falls from below, take the park's elevator or hike back down the Outcroppings Trail to the Hickory Nut Falls Trail. From there it's only a short, easy hike to bask in the cool misty spray while perched on one of the rocks at the base of the waterfall.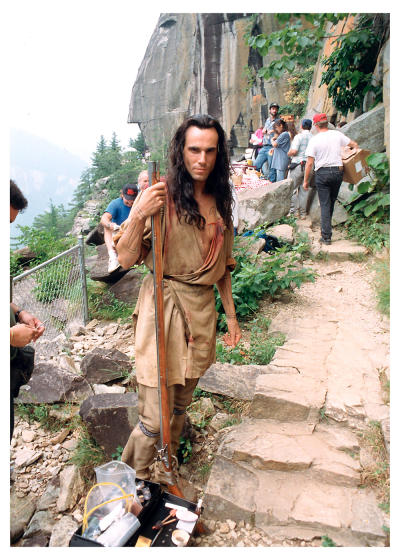 © Chimney Rock State Park