This round-up ready batch of Spring and Summer events, including The Dirty Dancing Festival, will inspire blogs and top-ten lists. Enjoy these events set against the scenic beauty of the Blue Ridge Mountains and Foothills…and have fun on a bike, on the lake, or hiking a trail, too.
Rutherfordton, NC (Feb. 13, 2015) Lake Lure and the Blue Ridge Foothills is the perfect playground for the outdoors enthusiast, and our destination is gaining national attention for the bouldering and climbing area that opened last year at Chimney Rock State Park www.chimneyrockpark.com/park/climbing/. The same scenery that inspired the romantic lift scene in the movie "Dirty Dancing" will lure you outside and into action.
Our extensive trail system offers hikes for beginners to pros. Trails. Cyclists, swimmers, fishermen and water sports enthusiasts find plenty to do here. All ages and ability levels will enjoy the pontoon boat tours on Lake Lure. Consider staying at an historic inn, a bed and breakfast or a cabin to accommodate the whole family.
Plan your outdoor getaway around these events and festivals:
MAY FESTIVAL OF THE ARTS
May 2, Downtown Rutherfordton, NC
Mayfest 828-287-2071
This family-fun celebration in downtown Rutherfordton is now 40 years old. Dine on local Southern cuisine, get the kids' faces painted and take a pony ride. Enjoy live, local music and performances plus a variety of arts and crafts vendors and even a classic car show.

FOREST CITY OWLS BASEBALL
May 26 through mid-August, 214 McNair Dr., Forest City, NC
www.forestcitybaseball.com, 828-245-0000
This four-time, national championship collegiate baseball summer team is one of the top-ranked teams in its league. McNair Stadium – named after Forest City native and NFL Houston Texans owner Robert McNair – offers stadium-style seating, kid-friendly inflatables and a beer garden with NC brews for adults.

LAKE LURE ARTS & CRAFTS FESTIVAL
Memorial Day Weekend, May 23 – 25, 119 Arcade St., Lake Lure, NC
Crafts Festivals, 828-625-4683
Meet independent artisans working in photography, oil, acrylic, jewelry, textile, fiber, pottery, wood and more at the festival overlooking Lake Lure. Face painting, mini golf, and entertainment stage featuring cloggers, folk bands and mountain dulcimer music. Pet-friendly.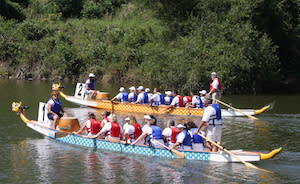 LURE OF THE DRAGONS RACE & FESTIVAL
June 13, Morse Park, Lake Lure, NC
www.lureofthedragons.org
Teams from across the region paddle 250 meters down the Rocky Broad River in 30-foot-long dragon boats dressed out in dragonheads, tails and scales. The event draws on a 2,500-year-old Chinese tradition that pays homage to the Asian dragon water deity; today, the event celebrates breast cancer survivors. The day features the parade of the dragons, a family-friendly festival, food and live music.

DIRTY DANCING FESTIVAL
Aug. 14–15, Morse Park (next to The Welcome Center), 2932 Memorial Hwy, Lake Lure, NC
www.dirtydancingfestival.com
Swing, sway, dance and play at The Dirty Dancing Festival in Lake Lure where much of the 1987 motion picture was filmed. Fans relive their favorite moments with a screening on Friday night followed by a family-friendly festival on Saturday with live music, dance performances and lessons, watermelon races and the popular Lake Lift Competition. Thousands of visitors from more than 24 states and many foreign countries attend the annual festival. Proceeds benefit the Pancreatic Cancer Action Network, the organization fighting to defeat the disease that took Patrick Swayze's life. Extensive imagery  available.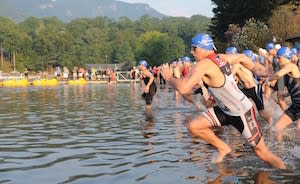 LAKE LURE OLYMPIAD
Aug. 14–16, Rumbling Bald Resort in Lake Lure & Chimney Rock at Chimney Rock State Park
www.LakeLureOlympiad.com
Kids and grownups compete for medals and share their love for sports at this annual weekend sporting event and festival. Fans watch and athletes compete in the "3 Races in 3 Days" challenge, the 10K Dam Run on Friday, the USAT-sanctioned Lake Lure Triathlon on Saturday and the Race to the Rock 5K run or 25-mile bike race on Sunday. Slow down for the Couch to Cart Path Two-Mile Run, or enter the golf or pickleball tournament. Opening Ceremonies feature a torch lighting, kids' games, and more.

About Lake Lure and the Blue Ridge Foothills is part of Rutherford County, North Carolina: The area is home to Lake Lure, Chimney Rock and "small-town-friendly" main streets nestled in the NC mountains and foothills. An emerging outdoor destination gaining national recognition with its bouldering, bike trails, waterways and lake, the getaway is also known for its relaxing pontoon boat tours on Lake Lure, family-friendly destinations and movie heritage. "Last of the Mohicans" was shot here, and Lake Lure is forever famous for the "lift" movie scene and more in "Dirty Dancing."

Call the Welcome Center at 800-849-5998. Visit us at www.rutherfordtourism.com, Twitter @VisitRCNC and Facebook.
###
Download spring and summer festival images at http://bit.ly/CureFestivalFatigue-LakeLure
Visit our Dirty Dancing Festival Image Collection.
Contacts:
Susan Dosier at susan@dkcommunicationsgroup.com / 704.993.7871 mob or Diane Jackson at diane@tributemediaconsulting.com / 678.428.1596 mob