This year National Walking Day is April 7th. In honor of this momentous, albeit little-known occasion, we'd like to focus on a subject that's often overlooked -- walking with a purpose. 
Walks don't have to be just about exercise. They can also be about the joy of experiencing scenic places, divining inspiration, or just wandering somewhere new. Whatever your motivation, the pathways and trails of Rutherford county are a walking paradise made for every reason .. or intention!
Stop and Smell the Roses
Sometimes a walk needs to be an experience that's enthralling for all the senses. If you're looking to meander along a whimsical pathway so full of flowers and fancy it almost seems magical, then Lake Lure's Flowering Bridge is for you. This incredibly beautiful, volunteer upkeeped oasis is part of Lake Lure's ¾ mile Town Center Walkway that continues past Morse Park to Lake Lure Beach and is designated a Living 3D Mural on the Appalachian Mural Trail. 
Does the thought of strolling alongside a rippling river surrounded by sights of majestic mountains and flanked by a picturesque village sound like a dream come true? The Rocky Broad Riverwalk in Chimney Rock Village is the perfect ⅛ mile stroll with plenty of picture-perfect stopping spots, window-shopping opportunities for those that want their walkabout with a side of local flair, and is even safe for kids of both the human and furry four-legged varieties to enjoy frolicking along.
Breathtaking Sights
When a walk just isn't complete without discovering sights that will knock your socks off, Chimney Rock State Park is your ultimate exploration destination. Their myriad of trails will take you on journeys up stairways, along waterfalls, through ridgetop forests, and across sheer cliffs -- including the park's 315 foot giant stone monolith that features incredible panoramic views like nowhere else in North Carolina. 
If you prefer your scenery a bit closer to the ground, then you'll love Dittmer-Watts Nature Trail Park. The park encompasses 3.3 miles of natural surface trails along Lake Lure, and is the perfect scenic woodland stroll for nature lovers and bird watchers alike. It's also family and pet friendly so be sure to pack a lunch and make a day of it!
Pushing the Boundaries 
When an outdoor journey absolutely must include pushing your physical boundaries to the limit, then there's no better spot than Hickory Nut Gorge's Weed Patch Mountain Trail. Trail access is via the highest point of Buffalo Creek Park and extends 8.6 miles to loop up into Eagle Rock at Chimney Rock State Park. 
Prefer your walk to be more of a rugged outdoor adventure? The South Mountains Game Lands & State Park offers 40 miles of mid to high difficulty trails through forests, across mountain streams, and along waterfalls at elevations up to 3,000 feet. Pair that with the spectacular year-round views of Golden Valley and you've got a physical fitness journey that's sure to enthrall.
Don't Just Walk -- Wander!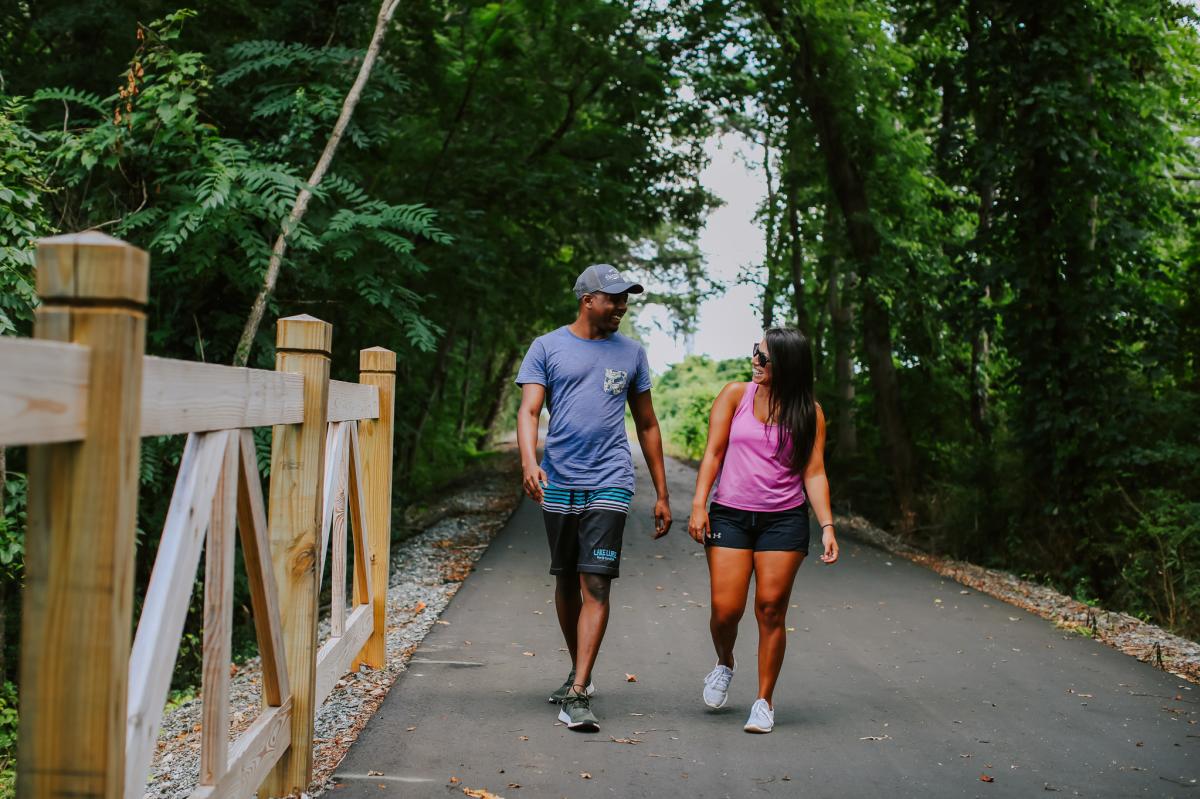 We've hit on just a few of the walking possibilities in Rutherford county, but they're only the tip of the iceberg. Want to take a walk through history? Enjoy a walking tour along Rutherfordton's Gold Mile. Journey a 13.5-mile path along an old railroad line that delightfully winds through the county's small towns and communities? The Thermal Belt Rail Trail is your ideal adventure. A greenway trail experience that's a stone's throw from local shopping and restaurant options? The Purple Martin Greenway that connects into Rutherfordton's new Kiwanis Park will be your perfect go-to. Even if your goal is simply a leisurely walk amid artisan shops and eateries in a quaint small-town setting, options like Forest City, Chimney Rock Village, and Rutherfordton are sure to fit the bill. 
So this year on National Walking Day, try something new! The reasons for walking are countless, so find one that speaks to you and make it your intention -- then come on out! We can't wait to see you soon!