By Tina Wolfe, Guest Blogger.
Since 1947, the Gale family has been contributing to the character and commerce of Chimney Rock Village and Bat Cave through its retail stores featuring quality handmade crafts and souvenirs along with a jovial dose of humor that keep guests smiling.
Gale's Chimney Rock Shop, 418 Main Street, is the town's oldest souvenir shop boasting three generations of dynamic entrepreneurs that was inspired by the family's business-minded matriarch, Georgia Gale. The shop is now run by Georgia's grandson, Steve Gale, who exhibits his grandmother's business savvy while adding his own wryness to the mix.
Click here to view our Gale's photo gallery.
"She was always a business woman," Steve says. "She owned a hotel in Asheville when she started the first souvenir shop just down the road. She taught me how to straighten nails, tie a tie, and read tea leaves," he recalls with a laugh.
Known to play a joke or two, Steve easily interacts with customers making sure each one is greeted with the genuine hospitality for which Hickory Nut Gorge is known. The shop had meager beginnings, not much more than a roadside stand, the Studio Rug and Jug Shop, that Georgia opened in Bat Cave, the home she had grown to love after coming to the area from upstate New York.
City folks escaping their concrete and glass cosmopolis were drawn to the colorful handcrafted mountain quilts and authentic Appalachian crafts while the children begged their parents for pop guns, rock tomahawks and wooden dolls.
There is something about Gale's that reminds visitors that they are on vacation and fun is the order of the day. One customer stops in to buy a new "Family Dog House" plaque to replace the one his father had bought years ago. A simple sign that reads, "Who's in the Family Dog House, To Stay Out-Obey the Rules, To Get in- Try Some Shenanigans" and each family member gets their own individual wooden dog with a space to fill in their name. "We've used this for years and the old one's wearing out," he said. "We have so much fun with this that we have to keep it going."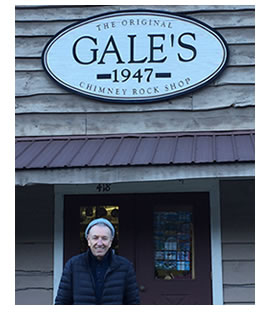 Steve's parents, Harvey and Bunnie Gale, started their own business in Chimney Rock in the late-'40s keeping the tradition going strong. By the age of ten, Steve was hard at work alongside his parents manning the Coke machines and selling crackers and snow cones. They were successful in securing a contract to manage the Sky Lounge gift shop on top of the mountain in Chimney Rock Park, located directly across from their shop in the Village. Steve served as the unofficial tour guide on the buses that transported the visitors from Main Street up the mountain to the Park's gift shop. Having grown up in the Gorge, he would regale passengers with historical lore and maybe a few jokes thrown in to keep everyone entertained.

"I was a "step on guide," he explained. "We would serve the passengers complimentary cider, and I would tell them stories." Customers come to Gale's year after year sharing memories of previous visits, to see the famous "singing outhouse" (yes, the only shop in Chimney Rock with a singing outhouse) and to get their photo taken with big bear (since retired) that greeted customers next to the old mechanical horse that cost a dime to ride.
"I've spent so much time here and learned a lot from my grandmother and my parents," Steve says. "My parents taught me the importance of greeting everyone, making them feel welcome." Steve did leave home for a spell. He went to Montreat College before heading to Ole Miss to finish his business degree. He then moved to Atlanta to work. It was there that he met and fell in love with Mary Jaeger who was teaching high school and completing her Master's Degree at Emory University. Bringing her to Bat Cave to the family home after their honeymoon, Steve gave Mary the deluxe tour of his quiet mountain town, exploring the Bat Caves, old growth forests and the ancient mountains that surround the area.
It took Mary a while to adjust to rural community life, but she eventually fell into the rhythm of the Gorge. In the early 80s, she left the teaching world to work at Chimney Rock Park. Today, her company, Chimney Rock Management, LLC manages the attraction section of the greater Chimney Rock State Park.
Between the Park and the shop, the Gales are very busy and involved in the community. Steve often plays music with his band, The Hickory Nuts, has been a Chimney Rock Volunteer Fireman for over 30 years, owned his own real estate company for 35 years, helped to start the Chamber of Hickory Nut Gorge, and both are involved in several local nonprofits aimed at the betterment of their community.
Steve's success is part training, part skill, and part pure passion for his community. He has strong roots here, he says. "The shop has stayed the same as I remember it as a little kid," he says. "It's just a little spot on the road. That's what I love."
About Lake Lure & the Blue Ridge Foothills of Rutherford County, N.C.
Have the time of your life in Lake Lure & the Blue Ridge Foothills, the famous film site of of "Dirty Dancing." Here, retreat to a destination where simple pleasures outshine the digital-age spectacles – a place where Main Streets reign over mega malls; where nature delivers the best adventures; and where history lives boldly and visibly in architecture, story, song and spirit.
Experience these journeys and more when you visit Rutherford County located in the majestic Blue Ridge Foothills of Western North Carolina. Home to Lake Lure, Chimney Rock, Rutherfordton, Spindale, Forest City and Bostic, there is a world waiting for you to explore, enjoy and love. More info, visit www.RutherfordTourism.com or call 800-849-5998.
###