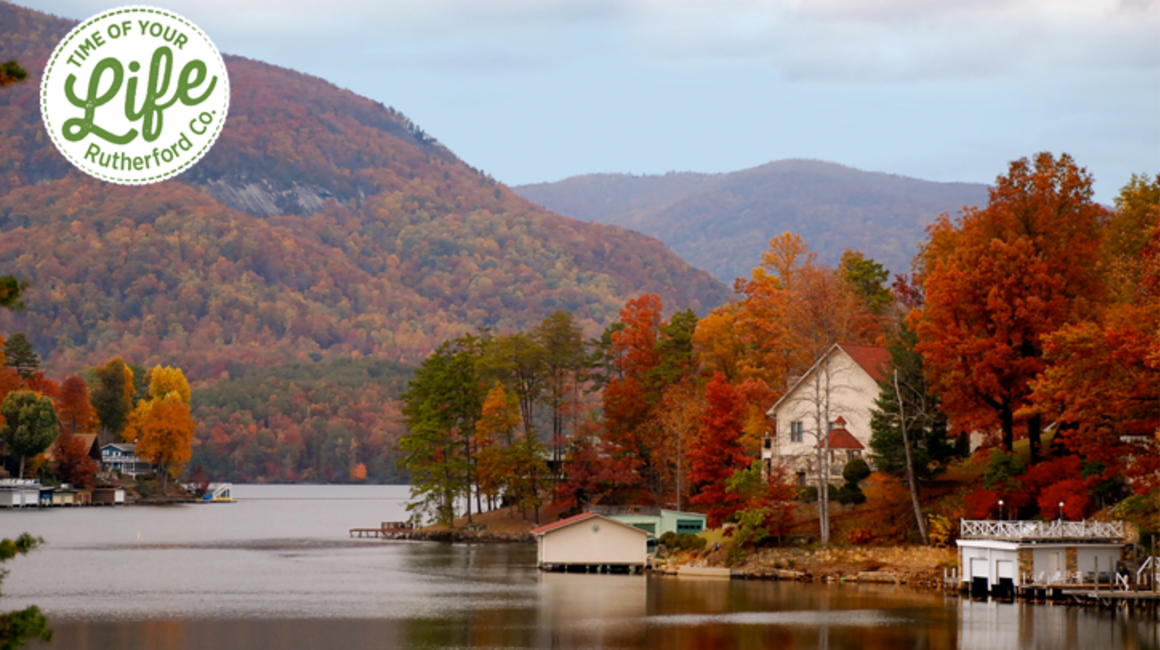 Take a Fall Driving Tour around Lake Lure & the Blue Ridge Foothills
When it comes to ways to enjoy the leaf season that blankets Western North Carolina in vivid colors, a scenic driving tour is a tranquil and rewarding option. The vast expanse of forested terrain in Lake Lure and the Blue Ridge Foothills make it one of the best places in the Eastern United States to enjoy nature's spectacular display of flaming golds, deep purples, and burnt red hues.
An afternoon drive through our history-laden main streets, and scenic back roads will offer incomparable vistas, revered history, local treasures and of course our authentic hospitality. Throughout the area, you'll find pumpkin patches, harvest festivals, and even scarecrow contests. Tour our tree-lined country roads that wind through rolling pastures back dropped by distant mountains ablaze in full autumn dress. Discover historic sites, rustic barns, log cabins, and businesses that make up the vibrant fabric of our county.
All of the scenic tours below include maps with driving directions. Be sure to view some of our favorite spots for fall color on Facebook or Instagram at #TOYLfall or #cherrybouncetrail.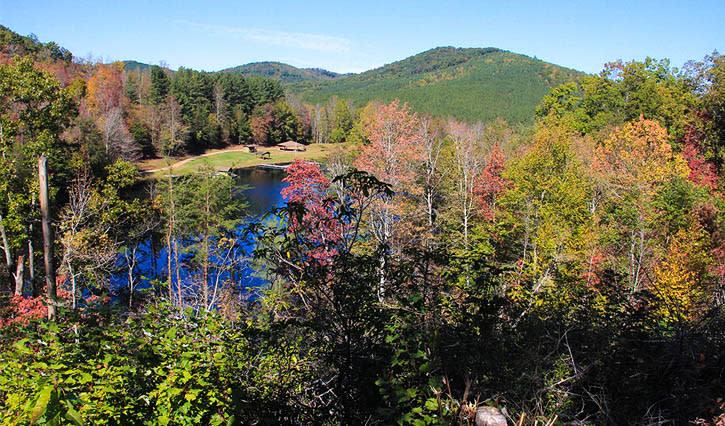 46.6 miles
Starting Location: Rutherford County Courthouse, 229 Main St., Rutherfordton, N.C. 28139
First traveled by visitors looking for its namesake moonshine, "Cherry Bounce," you will discover mountain views and main streets, history, tall tales, and a whole new spirit on this day-long driving tour. Along the way, be sure to check out several points of interest, including a stop at Smith Drugs in Forest City for a wonderful dose of nostalgia at their old-fashioned soda fountain. Bennett Classics Auto Museum will get your motor running, with over 70 classic cars. And no driving tour along the Cherry Bounce is complete without a stop at Washburn's General Store, recognized as the oldest continually run, family-owned and operated retail business in North Carolina. Although the Cherry Bounce Tour takes you through some of our charming small towns, it is primarily a bucolic route, with meandering roads trace the rolling landscape that makes up Rutherford County.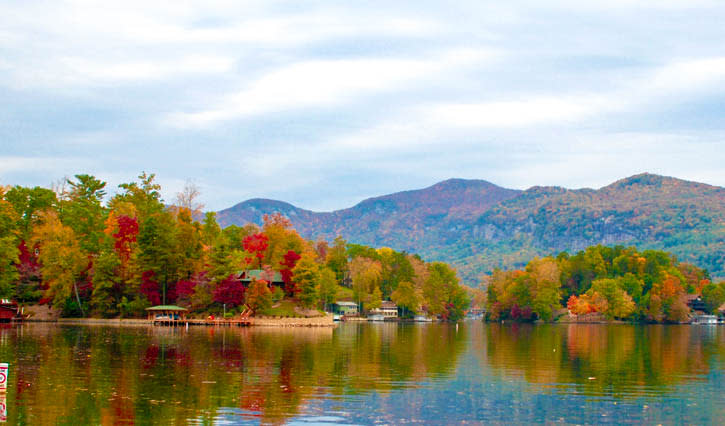 27.9 miles
Starting location: The Welcome Center, 2932 Memorial Hwy., Lake Lure, N.C. 28746
While all of our driving tours offer a wealth of picture-taking opportunities, this tour will have you snapping one photograph after another, as you experience a lovely winding route around the lake. It features not only striking natural vistas, but a peek at some marvelous lake homes, farms and ponds. Along the way, you'll drive over the historic Lake Lure Dam, which impounded Lake Lure in 1926. Be sure to make a stop at Rumbling Bald Resort for a quick lunch or some ice cream. Back on the road, stop by the pond at Cedar Creek Stables and Vandele Family Farms. The Lake Lure Flowering Bridge and a pontoon boat tour of the Lake are also must-do activities if you want to get an up close and personal view of autumn in the Lake Lure community.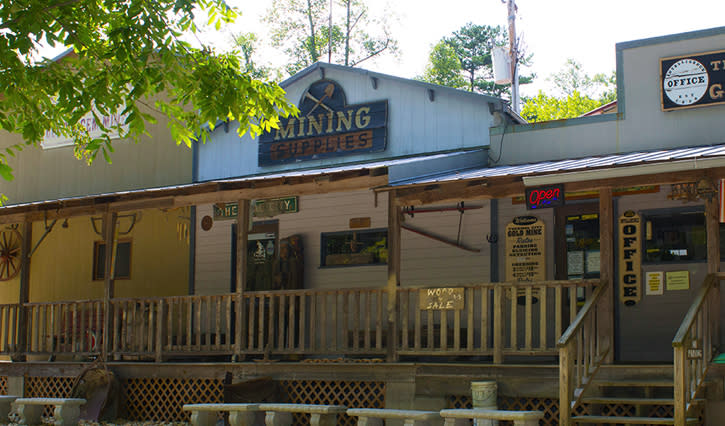 22.9 miles
Starting location: The Rutherford County Courthouse, 229 N. Main St., Rutherfordton, N.C. 28139
Take a break from the fall color show to try your luck at finding gold in our foothills. You wouldn't be the first. America's first one-dollar gold coin was minted right here in Rutherford County, N.C. This is a great driving tour option if you're limited on time or you're traveling with kids and history buffs. Stop by the Bechtler House a public museum for visitors to tour and gold enthusiasts to walk in the footsteps of gold history, followed by the original mint site three miles north. Finish with a stop at Thermal City Gold Mine and give your entire group a memorable experience as it is located on the actual site of one of the gold mines in Rutherford County.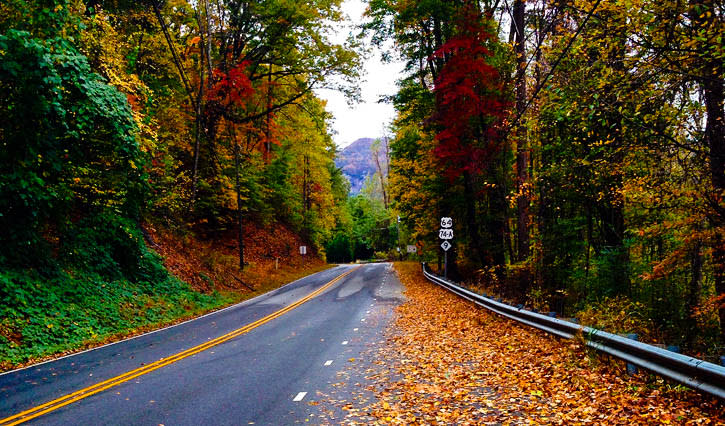 15-32 miles
Starting location: Tryon International Equestrian Center, 4066 Pea Ridge Rd., Mill Spring, N.C. 28756
This is the ideal driving tour if you're based at or visiting the Tryon International Equestrian Center, a premier equestrian lifestyle destination. You can still take in a nice fall color drive to Lake Lure and the Blue Ridge Foothills. The route is a lovely, winding jaunt that can take you right into the towns of Lake Lure and Chimney Rock Village or to historic Rutherfordton. Either way, you're sure to experience dynamic fall mountain color, some great dining options, and fun local shops.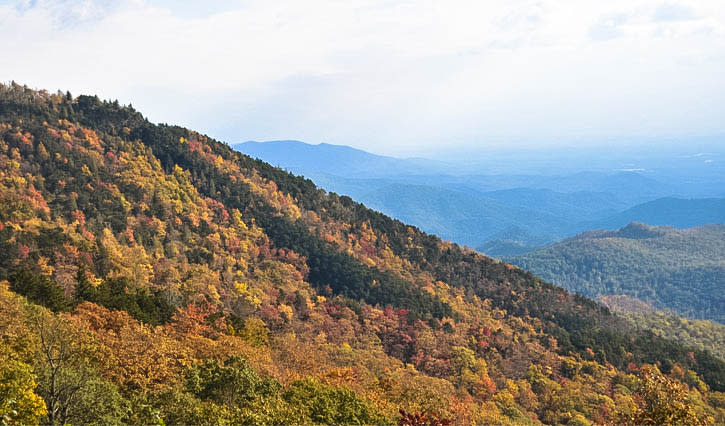 98.3 miles
Starting location: The Welcome Center, 2932 Memorial Hwy., Lake Lure, N.C. 28746
Starting location: The Welcome Center, 2932 Memorial Hwy., Lake Lure, N.C. 28746
The Blue Ridge Parkway Tour is an all-day trip that immerses you in the dynamic fall color of three Western North Carolina counties. Traveling through these higher elevations offers spectacular distant views of the splendor of fall in the mountains. The tour takes you through one of our favorite small towns, Chimney Rock Village. Take the time to stroll through and visit some of the shops. A walk along the Rocky Broad River Walk is a hidden gem of beauty all its own. After a stop into Bubba O'Leary's General Store and Outfitters the entrance to the River Walk is right next door. Continue your tour by visiting Chimney Rock at Chimney Rock State Park's Hickory Nut Falls. Scenes from "Last of the Mohicans" were filmed at this spot. A good portion of this route puts you in the Pisgah National Forest (more than 500,000 acres), and there are turn-offs and vantage points highlighting the best views. Just past milepost #411, take the exit for U.S. Hwy. 276S, which takes you by the Cradle of Forestry, Sliding Rock and the famous Looking Glass Falls.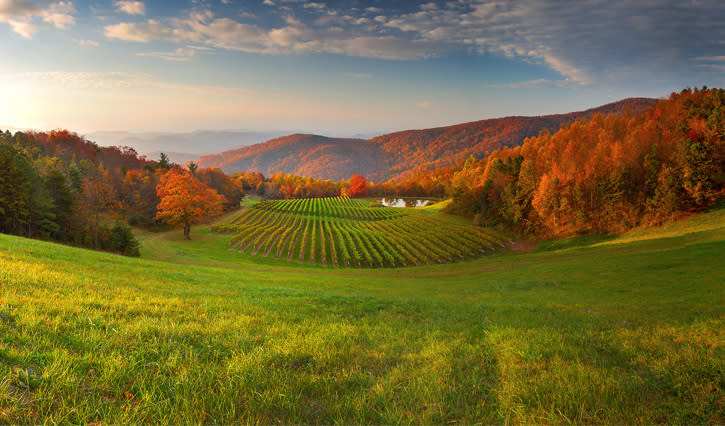 72 miles
Starting location: The Welcome Center, 2932 Memorial Hwy., Lake Lure, N.C. 28746
What goes together more than beautiful fall color and great North Carolina wine? Actually being able to visit our boutique vineyards! Immerse yourself in the purple mountain majesty while enjoying some of North Carolina's best wines. This extensive day trip will take you to four different vineyards, each with its own rich story. From family-owned operations and intimate tasting rooms, each vintner is proud to share the story of their craft with visitors.